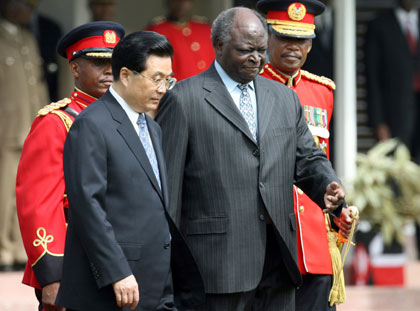 Chinese President Hu Jintao is welcomed by Kenyan President Mwai Kibaki in Nairobi, Kenya April 28, 2006. [Reuters]


President Hu Jintao will discuss the situation in Darfur with Sudanese leaders on his state visit to the country, part of his 8-nation Africa tour starting the end of this month, a senior Foreign Ministry official said yesterday.

Hu and Sudanese President Omar al-Bashir will exchange views on Darfur, Assistant Foreign Minister Zhai Jun told reporters in Beijing.

"The visit will not only help boost China-Sudan relations, but also promote peace and stability in Darfur," said Zhai.

Hu's Africa tour will take him to Cameroon, Liberia, Sudan, Zambia, Namibia, South Africa, Mozambique and Seychelles between January 30 and February 10.

"China has been playing a positive role in resolving the situation in Darfur," said Zhai. "We sincerely hope for national reconciliation in Sudan and the peace and stability it brings as soon as possible."

Progress is being made in Darfur and the Sudanese government has an active attitude to resolving the situation, said Zhai, who visited Khartoum last week.

Zhai said the international community should help build peace and stability in Darfur.

"Any solution to the situation in Darfur should be made with the consent of the Sudanese government," he added.

A resolution should be sought through dialogue and imposing sanctions on Sudan would complicate the issue, Zhai said.

According to Zhai, a series of agreements will be signed between China and Sudan during Hu's visit.

He would not confirm whether the agreements included energy cooperation. However, he commented, "energy cooperation between China and Sudan is very successful so it is natural for the two countries to sign such deals."

Zhai described China's cooperation with African nations as "open, transparent and mutually-beneficial".

He rebuffed accusations from western media that China only builds ties in Africa in order to exploit natural resources.

Energy resources are only one area covered by the many cooperative projects between China and African countries, said Zhai.

He said China only imports around 30 million tons of crude oil from Africa per year far less than some developed countries.