NASHVILLE, Tenn. - A Chinese couple who lost custody of their baby daughter after putting her in what they said was temporary foster care with an American family won their heartbreaking, seven-year legal battle Tuesday to get her back.
In a unanimous decision, the Tennessee Supreme Court said a Memphis judge wrongly took away the Chinese couple's parental rights. The high court said the couple were penalized because they did not understand the American legal system and thought they were giving up their daughter temporarily so she could get health insurance.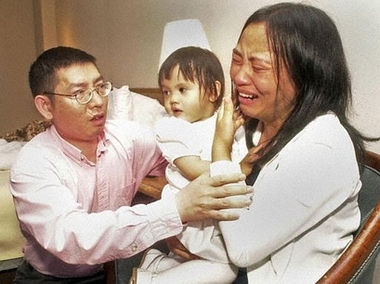 Shaoqiang He, left, comforts his wife, Qin Luo He, as she holds their daughter, Avita He, in their hotel room in Memphis, Tenn., May 12, 2004, after a judge ruled the couple were unfit to raise their 5-year-old daughter, Anna Mae, leaving her in the custody of the American foster family who raised her. [AP/file]
Now Anna Mae, who turns 8 later this month, could soon be taken from the only family she has ever known and returned to her biological parents. The court gave no timetable for the little girl to be reunited with the couple, who came to this country from China.
The custody fight has been tied up in Tennessee courts since Anna Mae was less than a year old. The Memphis judge's 2004 decision drew widespread criticism as culturally and ethnically biased.
The Chinese couple have drawn support in their struggle from the Chinese Embassy in Washington, and Chinese community groups around the country complained of cultural bias in Tennessee courts.
Shaoqiang He said he and his wife, Qin Luo He, are eager to be reunited with Anna Mae but will move slowly to give her time to adjust to leaving the home of Jerry and Louise Baker in suburban Memphis.
"We want our child to remember their kindness and their love," he said.
The Bakers planned to tell Anna Mae about the court decision Tuesday evening, said their lawyer, Larry Parrish.
"She has not wanted to have any conversation about it. She will close up her ears and run in another room," Parrish said.
"This will be a life-changing experience no matter how smoothly it goes," Parrish said. "There is no way it can be otherwise. It's just how you make the best of the worst situation."
Jerry Baker said the family was in shock after the ruling. They have four biological children, including a daughter about the same age as Anna Mae.
God "is going to protect these little girls," Baker said. "They're going to survive, and they're going to have productive lives."
The Hes have had two more children since Anna Mae's birth. "When she wakes up each morning, she'll wake up and see her mother and daddy and her brother and sister, and we'll all have the same faces she has," Shaoqiang He said.

| | | |
| --- | --- | --- |
| 1 | 2 | |