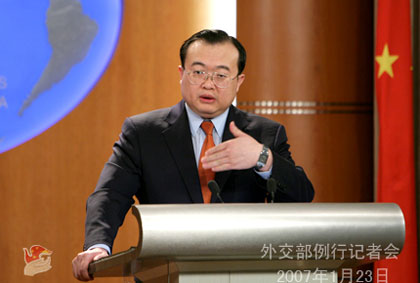 Liu Jianchao, spokesman of the Chinese Foreign Ministry, answers a question at a regular news briefing in Beijing January 23, 2007. [fmprc.gov.cn]


China has always advocated the peaceful use of outer space and opposes weaponization or an arms race in space, the Foreign Ministry said Tuesday, January 23, 2007.

Spokesman Liu Jianchao made the remarks at a regular news briefing in Beijing in response to questions concerning a recent outer space experiment conducted by Chinese scientists.

He noted that "China has never participated, and will never participate in, any arms race in outer space".

"This experiment was not directed at any country and does not constitute a threat to any country."

Liu said China has informed such countries as the United States and Japan of the experiment.

Hu's African visits

Liu announced that President Hu Jintao would make state visits to eight African countries starting at the end of this month.

Hu will visit Cameroon, Liberia, Sudan, Zambia, Namibia, South Africa, Mozambique and the Seychelles between January 30 and February 10.

The visits reflect major diplomatic activity between China and Africa following the Beijing Summit of the Forum on China-Africa Cooperation held in Beijing last November.

They are aimed at "consolidating traditional friendship" and "expanding pragmatic cooperation" between China and the African countries, Liu said.

China-Vatican relations

On the China-Vatican relationship, Liu said China is willing to hold talks to improve ties.

"We are willing to maintain contacts and have dialogue with the Vatican; and actively explore the approaches to improving bilateral relations" if the Vatican severs its "diplomatic" ties with Taiwan, and refrains from interfering in the country's internal affairs on the pretext of religious freedom, Liu said.

The Vatican wrapped up over the weekend a meeting specifically held to discuss its relationship with China, and agreed to set up a permanent commission to handle China affairs.

What emerged was the will to continue along the path of "respectful and constructive dialogue" with the Chinese government in order to overcome the misunderstandings of the past, said a church statement on Monday.

"We appreciate the Vatican's willingness to have constructive dialogue with the Chinese side," the spokesman said.