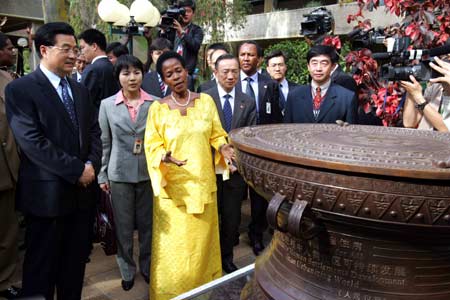 UN Habitat executive director Anna Tibaijuka (C) receives a statue representing a Chinese drum as a present from Chinese President Hu Jintao (L) at the UN compound in Nairobi, Kenya, April 28, 2006. [Reuters/file]


President Hu Jintao will visit Sudan and South Africa in the near future as part of an eight-nation trip to Africa to broaden the nation's reach and strengthen ties with the continent.

Foreign Ministry spokesman Liu Jianchao said Thursday that dates and detailed arrangements for the trip were still being negotiated, but would be announced soon.

The tour will possibly start at the end of the month. The South African Foreign Ministry has said the country will receive the president in early February.

It will be Hu's third trip to the continent, following trips to three African countries in 2004 and another three in April last year.

Foreign Minister Li Zhaoxing has just concluded a seven-nation African tour, mostly focusing on smaller countries. He returned on January 8.

China's diplomatic drive in Africa culminated last November with Beijing hosting a China-Africa Summit that drew leaders from more than 40 African nations.

Response to ministry upgrade

Liu yesterday also urged Japan to make further efforts to improve and develop bilateral ties instead of making trouble.

Liu made the comments in response to Japan's recent upgrading of its defense agency to defense ministry as well as Japanese Prime Minister Abe Shinzo's recent talks with his

British counterpart Tony Blair in which Abe asserted that the European Union lifting its arms embargo on China would impact security in Asia.

Liu stressed that adhering to the road of peaceful development by Japan conforms to the fundamental interests of Japan itself and benefits regional peace, stability and development.

He noted that Japan's concern over the EU's plan to lift its arms embargo on Beijing "is none of Japan's business and will not impose any threat to the country."