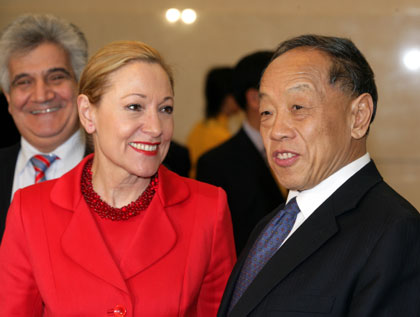 Foreign Minister Li Zhaoxing (R) and visiting EU Commissioner for External Relations Benita Ferrero-Waldner attend a joint press conference at the Diaoyutai State Guesthouse in Beijing January 17, 2007. [China Daily]


China and the EU yesterday announced the start of negotiations on a new agreement on expanding their strategic partnership.

Foreign Minister Li Zhaoxing and visiting EU External Relations Commissioner Benita Ferrero-Waldner announced the initiative at a press briefing in Beijing.

The Partnership and Cooperation Agreement (PCA) will include 22 sectors in which the EU and China are already holding a dialogue. They include energy, the environment, agriculture, transport, education, and science and technology.

It will also cover such key issues as sustainable development, anti-terrorism and proliferation of weapons of mass destruction, Ferrero-Waldner told the briefing.

In Helsinki last September, China and the EU agreed to launch talks on the PCA to update the 1985 Trade and Economic Cooperation Agreement, which currently constitutes the legal basis governing bilateral relations.

In their meeting yesterday, Ferrero-Waldner proposed joining hands with China to tackle energy security, trade and climate change.

Li said the two sides should work together to push forward negotiations and solve their disputes.

He reiterated China's stance that the EU arms embargo be lifted and the nation recognized as a market economy.

Michael Jennings, press officer of the European Commission delegation, said no deadline had been set for negotiations but added that two years would be a reasonable timeframe to finalize the pact.

The agreement will essentially codify existing EU-China ties, and replace the 20-year-old pact that focused only on trade and economic cooperation.

Ferrero-Waldner said a new agreement is needed because the existing one has not kept pace with "our rapidly expanding partnership".

"Twenty years ago, we were only trade partners, but now we are strategic partners, which means broader and deeper cooperation," she told the briefing.

China's rapid development and the EU's expansion offer a golden opportunity for strengthening relations, she said.

"I agree with Ferrero-Waldner's comments that China and the EU are not only trade partners, but all-round strategic partners. We share broad common interests and common positions," said Li.

Europe is China's biggest trading partner while China is the second-largest trade partner for the EU. Bilateral trade hit a record $260 billion last year.

Ferrero-Waldner also signed three financing agreements with Vice-Minister of Commerce Yi Xiaozhun earlier yesterday. They were for the launch of a Europe-China School of Law, a joint project on the protection of intellectual property rights, and a business management training program.

"A substantial impetus for this rapid development of bilateral ties stems from shared interests", said the EU Ambassador to China, Klaus Ebermann.

Thomas Bork, a historian teaching at Beijing Foreign Studies University, said "the EU approach to China is very pragmatic".

"It doesn't come in and say 'you have to change a great deal'. It prefers practical, gradual co-operation."