A CCTV anchorman said having a Starbucks coffee outlet in the Forbidden City makes a mockery of Chinese culture, reported the Beijing News Tuesday.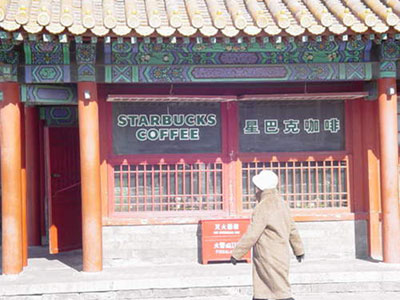 A person walks by a Starbucks outlet in the Forbidden City in this undated photo. [File]

Rui Chenggang, an English news anchor with CCTV-9 concluded that the Starbucks in the Forbidden City has become a joke among western tycoons after interviews with over 300 of them, including Bill Gates.

"Do you have plans to open stores in Taj Mahal, Versailles or Buckingham Palace?" Rui asked Jim Donald, Starbucks Chairman and CEO in the 2006 Yale CEO Leadership Summit. Rui suggested Donald get the outlet out of the Forbidden City.

In Donald's latest letter to Rui on January 14, he wrote that Starbucks has been constantly involved in heritage protection since it was invited to open a store in the Forbidden City by museum officials six years ago.

"Four dollars buys you a Starbucks drink in America, and it is not suitable to exist in upper-class places," Rui said. He believes fast food outlets don't fit in the Palace Museum, which is a symbol of Chinese civilization.

Rui's proposal to remove the Starbucks outlet from the Palace Museum stirs heated debates among netizens, who bombarded Rui's blog with 500,000 clicks within 2 days after the proposal was posted.

"The Forbidden City receives 1.6 million overseas visitors on average every year, and taking care of their food and beverage needs was a major concern when we invited Starbucks here six years ago", Palace Museum spokesman Feng Naien told the Beijing Morning Post Tuesday.

Feng said Starbucks coffee is operating in one of the museum's 9,999 rooms. The room covers some ten square meters and is not spacious enough to house any exhibitions.

"Negotiations between the museum and Starbucks are underway, and a solution is expected to be reached in the early half of this year," Feng concluded.

According to local regulations on cultural relic protection, a fine of up to 500,000 yuan (US$ 64,100) can be imposed if any serious damage is sustained to Palace Museum buildings during renovation or decorating.

Covering more than 720,000 square meters, the Forbidden City houses 1.5 million relics, accounting for one-sixth of the total relics in Chinese museums.

In 2003, a KFC outlet said good-bye to its former home in Beihai Park, a group of imperial gardens located in central Beijing, after the ten-year contract ran out. Park officials believe KFC doesn't fit in the imperial garden landscape.