A Zhen, a Shenzhen-based netizen, became an immediate cyber sensation and the target of censure when she posted an array of threads serializing her life as a mistress (also known as 'ernai' in Chinese) on bbs.yeeyoo.com, a website for making friends in southern China's boomtown .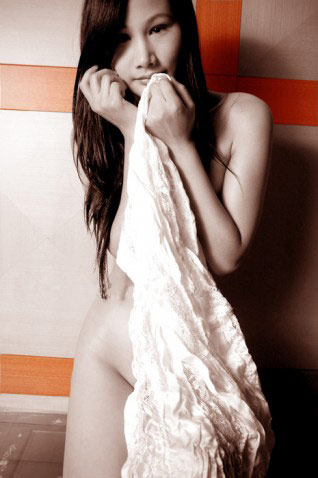 One of the photos A Zhen posted on bbs.yeeyoo.com. [bbs.yeeyoo.com]


A Zhen recounted her miserable life before she became a mistress on the forum and described in detail how she became one of such, featuring bold sexual description and many hot eye-catching photos.

In her opening thread, A Zhen wrote that she is from the countryside, but is now "enjoying the revelry in this prosperous metropolis of Shenzhen."

"Though women like me are derogatorily called 'ernai' and are spurned by society," she continued, "I personally had a pleasant and carefree life."

"Deprived of a good education, I am, fortunately, bestowed with both youth and beauty, which has enabled me to live a better life." A Zhen wrote in a following post.

Her candid narration seasoned with sexy photos created quite a buzz among netizens, attracting as many as 200,000 hits and over a thousand comments within a month.

A small number of netizens showed understanding and sympathy while a greater number expressed doubts and disdain. Some also thought A Zhen was faking. A netizen named 'fly_long' wrote "women like her (referring to A Zhen) won't live a happy life," while another under the name of 'Qing Qing Lue Sha' warns her that only by rising up on her own can she win the recognition and respect of others.

A Zhen responded to her critics by writing that, "I am only keeping a record of my life, which I don't think is humiliating. As a mistress, I have my miseries and am misunderstood. Only by getting them out can I feel a temporary comfort."

Sociologists, however, think otherwise, claiming A Zhen's action of posting her private mistress life represents a collapsing social moral system and calling for the installation of a new one.

"The reason A Zhen dared to post naked photos of herself and publicize her life as a mistress, both deemed morally unacceptable in the past, lies in the collapse of the social moral system, which has been afflicted with so many ills that views and behaviors of all kinds are understood and supported," Zhong Yaoqi, a sociologist with Chongqing Municipal Academy of Social Science, said, adding it is imperative that a socially acceptable moral system be built.