Prices of domestic refined oil products may have been cut in line with lower global prices, but the era of real flexibility in the country's pricing system is still some way off.
The National Development and Reform Commission (NDRC), the ministry-level body that plans the economy, announced on Saturday that it would cut the wholesale price of gasoline by 220 yuan ($28.21) per ton and the price of kerosene by 90 yuan ($11.54) per ton from yesterday.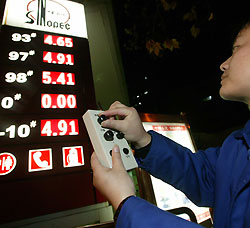 A gas station worker adjusts price board in Beijing on January 14, 2006 after China decide to lower down refined oil prices. [Xinhua]


The move marked the first price-cut for refined oil products sold on the Chinese mainland since May 2005. The price of oil products had gone up 12 times since 2003, including twice last year, in line with soaring global oil prices, Xinhua News Agency reported.
"The local price cut that took effect (on Sunday) was necessary and well-founded because crude prices have declined and the new oil-pricing mechanism is not yet available for public review," Han Wenke, director of the NDRC's Energy Research Institute, told China Daily yesterday.
He said that because the wholesale market for oil products is still dominated by State-owned giants mainly the China National Petroleum Corporation (CNPC) and China Petroleum and Chemical Corporation (Sinopec) it is natural for the government to keep a tight grip on pricing.
No new pricing system
He added that the government would not adopt the new pricing system in the foreseeable future.
"Although lower global oil prices will help pave the way for a new pricing system that is expected to track international crude prices more closely, the recent drop in (domestic) prices may not necessarily have been connected to that system," Han said.
Zhou Dadi, the retired former director of the Energy Research Institute, echoed his successor's comments.
"Even if a new pricing mechanism is adopted, State intervention in pricing will still apply in China, where the wholesale market is mainly controlled by Sinopec and CNPC," Zhou said.
The government adjusts oil prices only when the international price changes by more than 8 per cent. For refiners, this can lead to major losses as they pay large export bills when international crude prices are high, but cannot raise prices of the products they produce, such as gasoline for automobiles.
According to news reports, the NDRC had earlier been considering de-linking the price peg between local oil products and oil products sold in Singapore, Rotterdam and New York, which had been the standard for the past five years.
Instead, the top economic planner was said to be weighing the possibility of linking the prices of local oil products to crude prices in Brent, Dubai and Minas, which would more accurately reflect prices in the global market.
Analysts' view
Analysts argue that the NDRC should adopt the new pricing system now, while global oil prices are low. Crude oil for February delivery fell to $52.99 a barrel last Friday on the New York Mercantile Exchange. It was the fourth straight weekly decline, according to Bloomberg.
"Naturally, it would be easier for the public to accept a new pricing system that is designed to more accurately reflect global market conditions when the global price is low," said Han Xuegong, a veteran consultant for CNPC.
Cao Xiaoxi, an analyst at Sinopec, struck a similar note. "It would make sense to adopt the new system now. Of course, it is up to the authorities to make the final decision. Besides, oil prices may continue their decline," Cao told China Daily.
Lower fuel prices will benefit China's grass-roots consumers and oil-dependent industries like aviation and public transportation, said Lee Mei Leng, chief analyst at the Beijing office of Platts, a company that monitors the energy sector.
Lee added that the recent price cut for local oil products could prove painful to major refiners, which have long had to contend with high import prices and low retail prices.
However, Han said lower costs for crude imports and reductions in the windfall tax on oil earnings would soften the blow.
A Beijing taxi driver surnamed Chai said he was happy about the news and estimated he would save at least 5 yuan per day (63 cents), thanks to the lower gas prices.
"The government should take into account the interests of both oil enterprises and ordinary consumers," Chai said.
Xu Xiaobing, a Beijing resident who spends 1,200 yuan ($150) per month on gas for his private car, said the lower gas prices reflected the government's desire to adopt international practices.
(China Daily 01/15/2007 page3)