CEBU, Philippines - Southeast Asian leaders have signed a much-awaited economic cooperation deal with China at a summit as the bloc held a flurry of talks on trade and security across the region.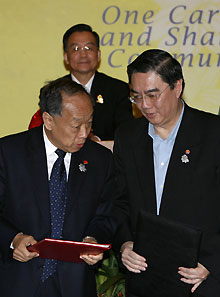 Foreign Minister Li Zhaoxing (L) talks to ASEAN secretariat Ong Keng Yong (R) in front of China's Prime Minster Wen Jiabao (C) after a signing ceremony for Trade in Service Agreement of the ASEAN-China Free Trade Area during the 12th Association of Southeast Asian Nations (ASEAN) summit in Cebu, central Philippines, January 14, 2007. [Reuters]


The Association of Southeast Asian Nations (ASEAN) was to meet the leaders of Japan and South Korea -- who were to hold their own summit with China for the first time in two years -- as well as emerging regional power India.

Chinese Premier Wen Jiabao and the 10 ASEAN leaders launched the busy day of diplomacy by signing a deal to open up access to each other's markets.

The accord, which comes into effect later this year, will liberalise services sectors ranging from tourism and telecoms to energy and computers.

"This is a major result for our economic and trade cooperation," Wen told his fellow leaders in a speech at ASEAN's annual summit meetings in the Philippine resort of Cebu.

"We are friendly neighbours and also important strategic partners."

Sunday's signing, he said, "has laid the foundation for the timely completion" of an ASEAN-China free-trade agreement scheduled for 2010.

Facing the growing influence of China as well as India, ASEAN on Saturday reaffirmed a pledge to create its own economic community with free movement of goods, services, investment and people by 2015.

But the bloc was to hold talks on separate agreements and other issues later Sunday with Japanese Prime Minister Shinzo Abe, South Korean President Roh Moo-Hyun and Indian Prime Minister Manmohan Singh.

Abe, Roh and Wen were also readying for the first three-way summit between the countries in two years, as Japan looks to repair relations that were strained by Abe's predecessor Junichiro Koizumi.

The three leaders are expected to focus on the situation on the Korean peninsula following North Korea's surprise nuclear weapons test in October, and the scant progress made since then in international talks with Pyongyang.

Ties were frayed by Koizumi's controversial visits to a Tokyo war shrine seen as a symbol of Japan's militarist past. There have also been disputes over oil drilling rights at sea and some small islands in the area.

| | | |
| --- | --- | --- |
| 1 | 2 | |