BEIJING _ Dependent on exports to the United States, the Hebei Lihua Hat Co. saw its profits wiped out as China's currency rose steadily against the dollar over the past year.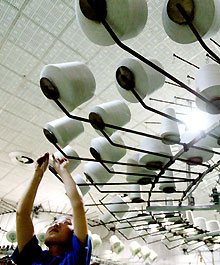 A woman works in a textile factory in Shanghai on December 10, 2006. Exporters in China try to spend more in creating new technologies and brands to shun the effects of currency rise. [Xinhua]


Hebei Lihua, which sold 90 percent of its 4 million hats to overseas markets last year, fought back by pushing its 1,800 workers to cut waste and find cheaper raw materials. It tried to boost revenues by introducing a new waterproof hat.

Yet even those efforts might be inadequate, said Wang Zhenhao, the business manager for Hebei Lihua, located in Baoding, a city southwest of Beijing.

"If the appreciation continues, we will probably lose money," Wang said.

Chinese companies that supply U.S. retailers with billions of dollars (euros) worth of toys, furniture and other goods every year face a painful squeeze as the yuan rises, setting off a race to cut costs or find new products that Americans will pay more for.

Beijing has let the yuan creep up by 6 percent against the dollar since July 2005, easing currency controls as part of long-term efforts to defuse strains caused by a multibillion-dollar influx of export revenues and investment. The yuan most recently was trading at about 7.81 to the dollar.

Washington is pressing Beijing to let the yuan, also known as the renminbi, or people's money, rise faster. It says the yuan is undervalued, giving Chinese exporters an unfair price advantage and widening the U.S. trade deficit with China.

The United States says its trade gap with China for the first 11 months of 2006 reached an all-time high of US$213.5 billion (euro165.6 billion), surpassing the full-year record of US$202 billion set the previous year.

The yuan's rise is small compared with swings in the yen and the euro against the dollar in recent years. But it is jarring for Chinese exporters, whose profit margins are thin and whose only competitive edge is low prices. Unlike Japanese or European companies, they lack technology and brand names that might keep American customers loyal even as prices rise.

"We do not welcome the renminbi revaluation. It will increase China's export cost and diminish our competitive strength," said Zhao Hong, a spokesman for the China Textile Association, an industry group.

Zhao said the group wants members to invest in developing profitable brands by improving quality.

"We expect to produce more new and improved goods in the future, so that can lessen side affects caused by the change," he said.

The pain should be concentrated in export industries, with little impact on U.S. consumers or China's broader economy, because Beijing is restraining the speed of the yuan's rise, said Andy Rothman, chief China strategist for investement bank CLSA Asia-Pacific Markets.

"I don't think the impact on most Chinese companies will be that significant," Rothman said.

Beijing has given no sign it will slow the yuan's rise, despite the possible threat to employment at a time when the government needs to create jobs for a growing workforce and millions of people laid off in the overhaul of state industry.

"When they started out on this process, they knew that some people would be hurt," said Rothman. "If they can see the results are necessary to put the economy on a sounder footing long-term, then they can deal with the pain."

A more muscular yuan also helps the large segment of China's export industries that rely on foreign raw materials.

| | | |
| --- | --- | --- |
| 1 | 2 | |