Chinese Premier Wen Jiabao met on Saturday with president of Asian Development Bank (ADB) Haruhiko Kuroda.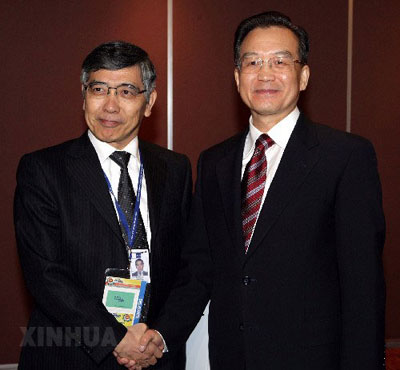 Chinese Premier Wen Jiabao met with president of Asian Development Bank (ADB) Haruhiko Kuroda on Saturday Jan 13th, 2007. [Photo: Xinhua]


Wen said that since China joined ADB in 1986, China and ADB have carried out fruitful cooperation in the fields of energy, transport and other infrastructures. He expressed his hope that ADB will continue to support China's economic and social development and said China is ready to seek new ways of cooperation with ADB to expand cooperation into the fields of agriculture, public health, culture and education and environment protection.
Wen said that China is an active participant in cooperation projects of Asian countries and is ready to strengthen cooperation with ADB to push forward regional cooperation. He also said that China is willing to provide help within its capability to other countries on the basis of equality and mutual benefit, in order to seek the realization of common development of all countries.
Kuroda said ADB is having very good cooperative relations with China and ADB supports China to realize comprehensive, balanced and sustainable development. He said ADB is willing to widen and deepen its involvement in the cause of economic and social development of China.
Kuroda said ADB highly regards China's important role in pushing forward regional cooperation and is ready to carry out close cooperation with China in the fields of poverty reduction and help other countries in the region quicken the pace of development.
ADB is a Manila-based multilateral development financial institution with 66 members. Its work is aimed at improving the welfare of people in Asia-Pacific region, particularly people living in poverty.
China has so far donated 30 million U.S. dollars to ADB-sponsored projects in Asia besides 20 million U.S. dollars to set up a poverty alleviation and regional cooperation fund with ADB.
Wen arrived here Saturday to attend a series of summit meetings with the member countries of the Association of Southeast Asian Nations (ASEAN) and Japan, South Korea, Australia, New Zealand and India.