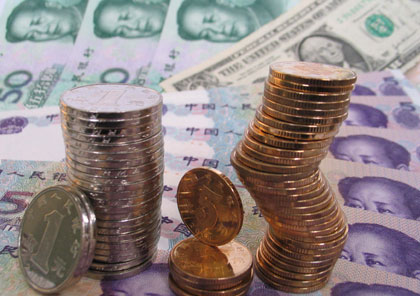 Renminbi banknotes and coins vs US dollar. [newsphoto]


China's yuan climbed above the Hong Kong dollar's fixed rate for the first time in 13 years, underlining China's economic ascent and fueling debate over whether to scrap the city's exchange-rate link to the US dollar.
Special coverage:
China-US Trade Frictions

Related readings:
Lenders can issue RMB bonds in HK
Yuan looks likely to overtake HK dollar
Yuan gains 3.4% with more growth forecast
Report: China currency not manipulated
The yuan rose 0.12 percent to 7.7980 to the US currency at 10:35 am in Shanghai compared with a close of 7.8075 yesterday, according to data compiled by Bloomberg. Hong Kong's de-facto central bank prevents the Hong Kong dollar from trading more than 5 cents either side of 7.8 per US dollar.

Gains in the yuan, which is at its strongest since a decade-long dollar link was scrapped in July 2005, may add to pressure on Hong Kong to adjust a 23-year-old currency peg to reflect growing economic ties with the Chinese mainland. The Hong Kong Monetary Authority says any change would rock investor confidence. It has spent the past three years stopping gains, after decades of fighting speculative attempts to weaken the currency.

"Breaking 7.80 is psychologically impressive, but it's just a passing point or a passing ceremony," said C. H. Kwan, a Tokyo-based senior fellow at Nomura Institute of Capital Markets Research, a unit of Japan's biggest brokerage. "The Hong Kong dollar is likely to remain pegged to the US dollar at a central rate of 7.80 in coming years, even though the yuan heads higher."

As the HKMA held the Hong Kong dollar steady, the yuan, or renminbi, has advanced 5.6 percent from the 8.3 per dollar at which it was pegged until July 2005.

Psychological Factors

HKMA Chief Joseph Yam wasn't immediately available for comment today. He said on Aug. 25 that 7.8 was a "psychological level."

"Psychological levels, once breached, dissipate quickly in terms of their market influence, as we saw when the exchange rate of the renminbi breached eight" to the dollar, said Yam in August. "It should not be an important factor in the determination of an exchange-rate policy."

'Clock is Ticking'

Of 10 strategists surveyed by Bloomberg News, only Westpac Banking Corp., Australia's fourth-biggest bank, predicts the link will end by 2008, forecasting a rate of HK$7.20 by 2010. The currency's spot rate today was HK$7.7953.

"The clock is ticking," said Sean Callow, a senior currency strategist at Westpac today. "I think if you ask any Asian policy makers, they're in agreement that the US dollar is heading lower in the long term. This makes the Hong Kong dollar look unnecessarily cheap."

China's stock market surpassed $1 trillion in value after major benchmarks more than doubled last year, making it the world's 10th biggest equity market, according to data compiled by Bloomberg.

The nation's trade surplus swelled 74 percent to a record $177.5 billion last year as exports surged, the government said today. US Treasury Secretary Henry Paulson and Federal Reserve Chairman Ben S. Bernanke, visiting Beijing last month, urged China to relax controls on its currency to ease the imbalance.

"This reinforces the story that China's still got huge surpluses and needs to deal with them," said Thio Chin Loo, senior currency strategist at BNP Paribas SA in Singapore. "The pressure for more gains isn't going to go away."

Basket of Currencies

Ben Simpfendorfer, a currency strategist at Royal Bank of Scotland Plc, said last week that Hong Kong may peg to a basket of currencies within five years. It may eventually link to the yuan once China's government allows greater convertibility, he said.

"Any change to the Hong Kong peg is still a long way off," said Shahab Jalinoos, head of Asian currency strategy at ABN Amro Bank NV in Singapore. "Whilst getting closer, China's and Hong Kong's economy are still very different."

Gains in the yuan have made Hong Kong's exports cheaper relative to Chinese mainland products and boosted the spending power of mainland tourists. Visitors from the mainland accounted for more than half the city's 22.8 million visitors in the first 11 months of last year.

The city's economy grew at a 6.8 percent pace in the third quarter, four times faster than the US rate of 1.6 percent, though slower than China's 10.4 percent. Consumer prices rose 2.2 percent in November from a year earlier as a stronger yuan made imports from China more expensive.

'Arithmetic Coincidence'

The monetary authority has to set its benchmark rate in step with the Federal Reserve to maintain the peg, rather than seeking to cap prices. Lenders including HSBC Holdings Plc. in November cut interest rates to their best customers, which may further stoke spending by consumers and companies.

The interest rate banks charge each other to borrow the Hong Kong dollar for one year is 1.24 percentage points lower than that for the US dollar. The gap was 1.31 percentage points on Jan. 2, the widest in 19 months.

John Greenwood, a member of a board that advises the HKMA on currency policy and the chief international economist at Invesco Asset Management Ltd. in London, said in November there had been no discussion of changing the peg when the group considered the impact of the rising yuan.

"There's always been those in the market who think there will be some change to the Hong Kong dollar because of movements in the yuan, but it's just a myth," said Greenwood, who developed the peg. "The nominal convergence to 7.8 is nothing more than an arithmetic coincidence."