Ten people, including diners and restaurant employees, are injured in an explosion in a hotel near Beijing's busiest street of Wangfujing at lunch time on Saturday.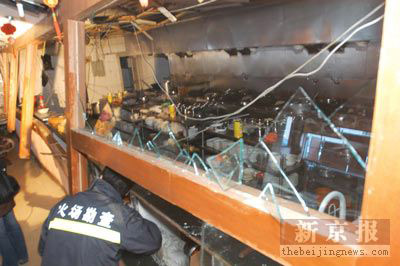 Firemen check the site after an explosion hits the Dongfangrenjia Hotel near Wangfujing street on Saturday, Jan 7, 2006. [The Beijing News]

The Beijing News reports all the injured are out of danger, while five employees of the Dongfangrenjia Hotel suffered severe burn injuries.

Medical staff in Jishuitan Hospital said all the five are in stable conditions, but they need treatment at hospital for several days.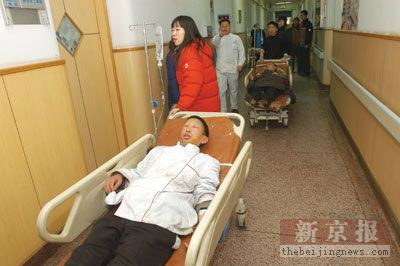 Injured people are sent to a hospital after the accident on Saturday, Jan 7, 2006. [The Beijing News]

Firemen identified a gas leak in the kitchen was the cause of the accident that made glass windows and gates of the hotel break up and the ceiling cracked.

An employee with the hotel, surnamed Wang, witnessed the accident. He said the burst occurred under a cooking stove with a loud sound when a chef tried to re-ignite the stove after the fire suddenly went out.

Police blocked the site after the blast and briefly prohibited people nearby from using mobile phones for fears of more explosions.

According to an official with Beijing Fire Control Bureau the hotel has been required to close after the accident to conduct a self-exam and will receive a safety check before the re-open.