XI'AN: Frescoes are painted on walls when their plaster is still wet. The whole idea is to let the watercolour penetrate the plaster and become fixed as it dries. Which means a dry weather should logically be good for frescoes.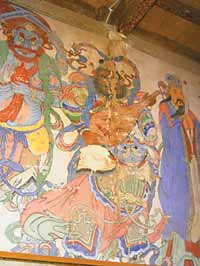 Ironically, it's the dry weather of Dunhuang in Northwest China's Gansu Province that has been threatening frescoes and statues in the world heritage Dunhuang Mogao Caves.
Compounding the matter is the constant flow of visitors, both from home and abroad. And if immediate measures are not taken, the treasure, which has high archeological, cultural and artistic value, could be damaged beyond repair in another 50 years.
But that is something the local government and residents won't allow to happen. They have taken steps to save the more than one-and-a-half millennium old frescoes by fighting desertification and restricting the number of visitors.
Artisans began working on the caves in the Mingsha Mountain in AD 366, or 1,641 years ago.
The more than 3,000 Buddha statues and the frescoes that together can add up to 30 kilometers are a treasure trove for archeologists and art historians. UNESCO listed the Dunhuang Mogao Grottoes as a world heritage site in 1987.
The people, no doubt, have spread their fame farther and wider, but they unwittingly began damaging them, too. Add to that increased farming and grazing and sudden urban expansion and you have a recipe for disaster at least for fragile heritage sites like the caves.
Irrigation, grazing and urbanization depleted the underground water reserve. Diversion of water sources for irrigation and everyday use created a shortage above ground. The result: drier weather and intensified desertification.
To reverse the situation, the authorities and the people are taking measures to improve the environment and control the number of visitors.
This is an apt example of people not only being worried over an impending disaster, but also taking the lead to prevent it, according to the Dunhuang Relics Protection Research Institute.
"To check desertification, we will take steps to save the limited water resource and divert water from other places," said Bao Donghong, Party leader of Dunhuang.
Water-saving farming technology has been introduced in villages near the grottoes, a move that could save 50 percent water for irrigation.