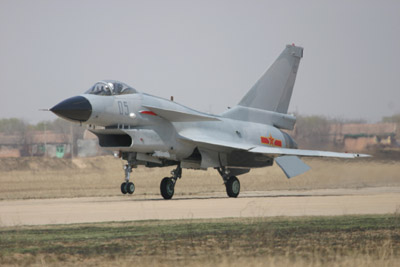 China's indigenous third-generation Jian-10 (Fighter-10) makes its debut in Beijing January 5, 2007. The airplane is manufactured by the China Aviation Industry Corporation I (AVIC I) based on the country's own Intellectual Property Rights. [Xinhua]


China's home-made new-generation fighter aircraft, the Jian-10 (Fighter-10), made its debut in Beijing on Friday.
A five-minute-long video film revealed how the fighter takes off, lands, fires missiles and flies in formation.
A model of the single-seater Jian-10 was also unveiled by the China Aviation Industry Corporation I (AVIC I), which spent seven years developing the fighter aircraft, the Taihang turbofan engine and the new-generation air-to-air missiles.
The multi-role Jian-10 has single-seater and two-seater versions.
China has become the fourth country in the world to develop its own advanced fighter aircraft, aero-engines and missiles, said Geng Ruguang, deputy general manager of AVIC I.
The Jian-10 and the Taihang turbofan engine, both with proprietary intellectual property rights (IPR), herald the third generation of Chinese fighter aircraft and military aero-engines, said Geng.
The Jian-10 series marks a breakthrough in China's research and development of heavy fighter aircraft, said Liu Gaozhuo, executive commander in chief of the Jian-10 program.
Military observers say the Jian-10 can not match American fourth-generation fighter aircraft in performance but its basic design and home-made onboard equipment are comparable to those of mainstream fighter aircraft in the West.
The Jian-10 will help the Chinese Air Forces improve defense capabilities and speed up weapon modernization.
China is now capable of developing its own big thrust military aero-engines and the Taihang turbofan engine will power its third-generation fighter aircraft, said Liu.
Geng said the Chinese Air Force had been equipped with the country's newly-developed fourth-generation air-to-air missiles, which can launch beyond-visual-range and multi-target attacks and do not require further guidance after launch.
AVIC I has also successfully developed China's first turbofan regional jet, the ARJ21, which can carry 70 to 110 passengers.
The ARJ21 is expected to make its maiden flight in March 2008 and deliveries will begin before October 2009.
The manufacturer has received 71 orders for the plane from domestic airline companies including Shanghai Airlines, Shandong Airlines and Xiamen Airlines.
AVIC I is the leading aircraft manufacturer in China and provides the Chinese armed forces with 90 percent of their airborne weapons.
It has already produced 1,500 aircraft, 50,000 aero-engines and over 10,000 missiles.
Company sales have grown six years in a row to reach 80 billion yuan (10.26 billion U.S. dollars) in 2006, up 15.7 percent year-on-year. Meanwhile, profits reached three billion yuan, up 42 percent.