On December 21, 2006, Li, a pilot with the Lanzhou Air Force Area in northwest China's Gansu Province, was posthumously awarded a first-class merit and a gold medal for pilots, the highest honor a for a pilot, reported Zhengzhou Evening News Friday.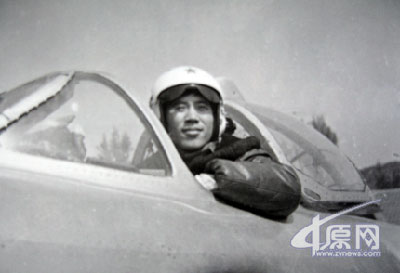 Pictured in this undated photo is Li Jianying sitting in a fighter jet. [Zhengzhou Evening News/file]


For Li Jianying (Code-name 639), November 14, 2006, which dawned clear, sunny and windless, was a good day for a flight.

In the morning, he got in his fighter plane, and carried out a midair cruise mission together with one of his comrades in another jet of the same model. As he was descending in his jet, a flock of pigeons ran into the jet, disrupting the engine.

He immediately radioed is commander a series of three messages starting at 12:04, first that "Birds ran into my jet," then "I may be able to do a forced landing. I'll take back the undercarriage," followed by his last message of "I've taken back the undercarriage. Forced landing."

The plane exploded seven minutes later.

Generally in such cases a pilot would choose to bail out of the plane. Li showed no signs of panic in his communication with the command center. Then why did Li, who had 22 years of experience in flying fighter jets, decide not to bail out and instead attempt a more dangerous forced landing?

According to investigators, there were 814 households in 7 rural villages, an expressway toll station, and a tile workshop within the area between the point where the pigeons ran into the jet and the crash site. Therefore, if Li jumped directly without adjusting the parachute, the fighter jet might have crashed into the villages, posing a threat to the villagers' lives and public properties.

"There were over 800 liters of aviation oil, more than 120 airborne shells, a rocket, and inflammable oxygen cylinders. If the jet went out of control after the pilot bailed, it would have been like a bomb going off, causing unimaginable loss," said Li Shaohua, a department head of the Lanzhou Air Force Area.

Zhao Linsheng, a local villager, was working in the field when the plane crashed.

"I heard the noise from above in the sky, and saw a plane flying slowly at a low altitude. I thought something must have gone wrong with it. Shortly after, it landed and slid a long way forward before hitting the river bank," he said, "Black smoke billowed, and then there was a blast."

"There were two adjacent villages right below the plane, and many villagers were working in the fields. If Li hadn't made the forced landing, many of them would have died or been injured," Zhao added.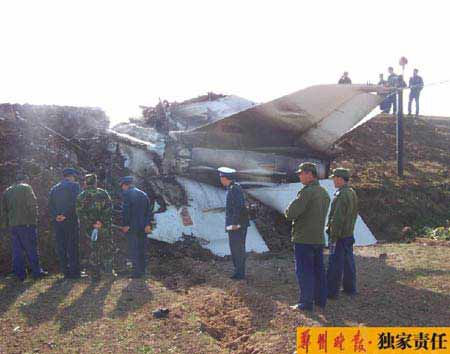 Investigators and local villagers at the crash site. [Zhengzhou Evening News]


Continuous explosions lasted more than two hours, and some witnesses were only 20 meters away from the explosion. Fortunately, no one was injured.
Zhao told the paper many villagers have since come to mourn Li at the crash site.
"Villagers here really appreciate what Li did to save them from disaster, and they are circulating the story among themselves. Now, the whole neighborhood knows of Li's heroic act, " Kang Fahui, a deputy party secretary of a local town, was quoted as saying.
Scattered blood stains and feathers were later found on the bullet-proof glass of the cabinet, and the bodies of the pigeons were found along the way.
"Had he chosen to bail out, Li could have saved his own life. But for the sake of other people's life and property, he chose to die a martyr," Hu Xiaodong, who witnessed the whole process as the commander and team head, told the paper.
Li was born to a farmer's family in Zhengzhou, Central China's Henan Province in May 1964. Li was known for his toughness and work ethic. He joined the army in 1982, and served as air force caption and first-class pilot before his death. During his 22-year flying career, Li flew 5,003 times registering 2,389 hours of safe flights, and was awarded third-class and second-class honors.