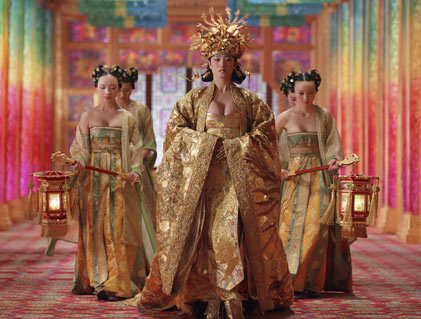 Gong Li (center): In the eye of a storm


China's most famous film director spent $57 million on his latest blockbuster only to explode the screen with the busty figure of actresses and re-trigger calls for a movie rating system in the country.
Zhang Yimou's Hero was an international box office hit in 2002. Last month he hit the cinemas with the epic, Curse of the Golden Flower.
Though the film's major scenes are a riot of colors, with a dominant golden hue, bloody battles and highly decorated sets with tens of thousands of flowers, the limelight is hogged by it's actresses' cleavages.
The most eye-catching is Gong Li, with her breasts appearing ready to pop out of her tightly wrapped costumes.
But sadly there were no warnings for parents who took their underage kids "to support the domestic film industry".
A note of warning in the film's posters and publicity trailers could have saved the parents from unnecessary embarrassment and their children from unwanted exposure.
"There should have been a warning," deputy dean of the School of Journalism and Communication of Tsinghua University Yin Hong told China Daily Wednesday. "But it's not a must in the country because we don't have a movie ratings system."
To make things worse, posters on the campuses of primary schools urge youngsters to watch the movie to support the domestic movie industry, professor of Beijing Film Academy Cui Weiping said.
A woman named Ding Yunxia took her five-year-old son to cinema and had to frequently cover his eyes with her hands. "I told him to do so with his own hands but he wouldn't," she said. "I'm not sure how much of those shiny white breasts rubbed off his eyes."
Despite China traditionally being a conservative society, more and more of its films, both commercial and artistic, have scenes of exposure that could be offending to many, Cui said. The trend began with the new century.
Zhang may have liked the viewers to admire the "Curse of the Golden Flower" for its story, splendor and visual effects, but unfortunately they are likely to remember it only for the controversy Gong's gowns and their busts created, he said.
The State Administration of Radio, Film and Television (SARFT) declined comment on controversial scenes in films made in the country, saying the ratings system was too "sensitive" a subject to be talked about.
Back in 2004, Tong Gang, then SARFT director general, said a ratings system would be introduced in accordance with China's legal framework instead of being based on foreign countries' existing norms.
The ratings system was to be based on the "psychological age" of adolescent Chinese. Overseas and Chinese films were to be rated and classified according to their contents such as murder scenes, violence, terror and sex, he said.
Asked about her scenes in the "Curse of the Golden Flower", Gong Li said the costumes merely showed the beauty of a woman's curves. "We didn't have any feeling of awkwardness or risk while wearing those costumes," she said.
Director Zhang, too, has defended the scenes. He has been quoted in Chongqing as having said: "People shouldn't see the breasts only. They do that only because sex had been a forbidden topic."