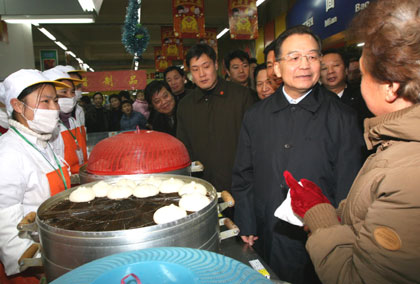 Chinese Premier Wen Jiabao (2nd R) talks with a saleswoman while inspecting a supermarket in Lianyungang, east China's Jiangsu Province January 1, 2006. [Xinhua]


Chinese Premier Wen Jiabao spent the New Year holiday visiting farmers and citizens of a revolutionary base in east China's Jiangsu Province in the first two days of 2007, conveying New Year greetings to the locals.

Braving chilly weather, Wen walked through farmland, chatted with farmers, inspected food supply of a supermarket and visited some families of Lianyungang City in northern part of Jiangsu.

Farmers' income and grain price became the concerns of the premier, also a member of the Standing Committee of the Political Bureau of the Communist Party of China (CPC) Central Committee.

On Jan. 1, Wen came to the Qingxin Village of Donghai County and visited some households, asking them about the grains they had harvested, sold and saved.

At the home of villager Chen Hou'e who sold more than 3,500 kg of wheat after a summer harvest last year and regretted a little bit due to the recent surge in grain prices, Wen, holding a handful of paddies from a rice bowl, smilingly asked whether she was thinking of selling the rest grain soon.

"It's no hurry to sell them out at this stage. We can wait for a while," answered Chen.

"I hope farmers can benefit more when grain prices are on the rise in some areas. The prices are recovering from the previous low level," said Wen.

Later he came to a rice processing and distribution company. At the door, he inquired about the grain price of that day from villager Zhou Lizhen who came to sell her paddies to the company.

Zhou said one kg of grain can be sold at 1.84 yuan and all the grain in her family had been sold out.

Then the premier held a small seminar in the company's workshop, inviting some rice company managers and villagers coming to sell their crops to reckon the profits from growing grain.

Wen was told that if the rice price rose 20 cents for each kilogram, four more cents could go to farmers, five cents to processing companies, and two cents to transportation process.

Some villagers said most wheat at farmers' homes had been sold but about 60 percent of paddies remained unsold. Wen reiterated that the grain price increase should at first benefit farmers and the government should provide accurate market information.

Villager Bo Kangbo, a big crop-grower, said his fellow villagers have enough confidence in growing crops as farmers are not only free from being taxed but receiving state subsidies as well. In addition, grain prices were increasing recently.

In Huangchuan Town, a strawberry base, Wen asked about the strawberry output and sales in a farm. There are about 1,200 hectares of strawberry land, bringing wealth to more than 6,000 rural families.

When villagers told Wen that growers could earn about 15,000 yuan (1,875 U.S. dollars) annually for each mu (1/15 hectare). He was very happy and encouraged them to keep working hard and develop more local businesses in order to raise income.

The premier also cared about the current development of the port city Lianyungang, the east starting point of the new Asian-European land bridge, also one of the first cities in China to launch reform and opening-up last century.

On Tuesday morning, Wen visited workers' families, inspected the port docks and expressed his gratitude to dock workers on holiday duties.

"Lianyungang City boasts a strategic position in the country's regional economic development as it connects the Yangtze River Delta, the Bohai Bay, northeast Asia and central and western parts of China up to central Asia through railways," said Wen in the chilly wind.

The premier also visited the Tianwan nuclear power station and especially stressed the significance of nuclear power development, saying energy structure should be adjusted and the quality and safe operation of the station must be ensured.

In a supermarket, Wen carefully examined the price tags and asked customers and salesmen about the sales figures in the New Year holidays. People buying goods apparently felt exited to see the premier walking into the supermarket who gave them warm "happy New Year" greetings.

In the evening, Wen went to the home of 70-year-old retired worker Liu Lisheng who has a big family of 11 members. The premier inquired about the increase of retirement pay and medical insurance.

"I'm glad to see that you are all in good health and have pleasant family relationship," Wen said.