BEIJING - China's tax revenues soared 21.9 percent in 2006, the government said Tuesday, amid surging economic growth and official efforts to increase tax collections from private industry.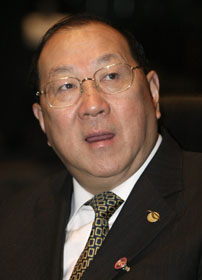 China's Finance Minister Jin Renqing sits before a development committee meeting at the International Monetary Fund (IMF) - World Bank meetings in Singapore September 18, 2006.[AP]


Revenues in 2006 totaled 3.8 billion yuan (US$480 billion; euro380 billion), the State Administration of Taxation said on its Web site.
That increase came on top of a 20 percent surge in tax revenues in 2005, the official Xinhua News Agency said.
The tax boom has been driven by sizzling economic growth that was expected to top 10 percent in 2006 and by efforts to collect more taxes from foreign and private Chinese businesses.
Private investment accounts for most of China's economic growth and job creation. Tax collections from private businesses are believed to be growing even faster than total revenues, but the tax agency's one-sentence statement did not give details.
The 2006 tax figure does not include import tariffs and taxes on land use and real estate transactions, the reports said.
Those items should add a substantial amount to revenues due to an import boom in recent years and rapid growth in real estate investment.
The increase in revenues comes as the government aims to reduce its budget deficit "appropriately" in 2007, an aim stated by Finance Minister Jin Renqing in December.
According to the government budget issued early last year, China projected the central government deficit for 2006 to be 295 billion yuan, down marginally from the year before.
Last April, China introduced some of the most comprehensive changes in its tax rules since 1994, starting to levy taxes on resource-consuming items such as refined oil or luxury products like yachts and golf equipment.
The government has also been addressing tax collection enforcement in recent years, which is highlighted in a campaign to force the rich to pay more and punish them if they try to evade paying their dues.