TOKYO _ Japan and China are moving toward a strategic relationship based on trust, Japanese Prime Minister Shinzo Abe said in his New Year's statement Monday, promising to mend strained ties and reduce bitterness between the Asian giants.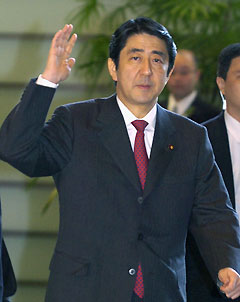 Japanese Prime Minister Shinzo Abe enters his official residence in Tokyo December 28, 2006. [Reuters]


But Abe also called for changes to Japan's constitution, and hailed the impending upgrade of the country's Defense Agency to a full ministry - moves that have been criticized as shifting the country away from its postwar pacifism.

"I have agreed with China to bolster already cordial ties into a mutually beneficial, strategic relationship," Abe said in a statement released January 1. "I plan to build forward-looking relations based on trust" with China, as well as with neighboring South Korea, he said, without elaborating.

Japanese and Chinese leaders have recently spoken of a thaw in bilateral relations which had sharply deteriorated under former Japanese Prime Minister Junichiro Koizumi. He upset Beijing by repeatedly visiting a war shrine that honors Japan's war dead, including those involved in the invasion and colonization of China and much of Asia - among them convicted war criminals.

Under Koizumi, Japan and China also squabbled over territorial disputes involving underwater oil and gas reserves, and as well as Japanese school textbooks which some say whitewash atrocities committed by the country's soldiers in Asia.

But Abe has made mending ties with China a priority. He visited Beijing on a fence-mending visit less than two weeks after he took office in late September, meeting Chinese President Hu Jintao in the first summit between the countries in five years.

A tentative thaw has followed. In December, Japanese and Chinese scholars held introductory sessions to a series of government-sponsored historical study groups in an attempt to narrow differences in interpretations of the neighboring countries' troubled pasts.

Tokyo also agreed in December to speed up the removal of chemical weapons abandoned in China by Japan's Imperial Army at the end of World War II, while local media reported that the controversial Yasukuni war shrine would alter exhibits at its museum to address criticism that it presents lopsided historical views on Japan-China relations.

Still, Abe has coupled diplomacy overseas with a bolstering of Japan's defense capabilities at home. In the New Year's statement, Abe said he hoped to amend Japan's U.S.-drafted pacifist constitution, which bars the country from using force to settle international conflicts.

The LDP has proposed changes that would recognize Japan's right to a standing army and remove other pacifist restrictions.

"The Constitution represents a country's ideals, its nature. It is time that we ourselves write a Constitution befitting for a new era," Abe said, vowing to pass legislation next year to allow a national referendum on constitutional reform.

| | | |
| --- | --- | --- |
| 1 | 2 | |