Hu predicts "sound" economic growth
(Reuters)
Updated: 2007-01-01 08:46
Beijing - China aims for sound and fast economic growth with fine-tuning as needed in 2007 and will stick to a path of peaceful development, Chinese President Hu Jintao said in a New Year's Eve address on Sunday.

In a speech broadcast on state radio and television from the snowy capital, Hu praised the country's economic achievements and improved living standards in the past year.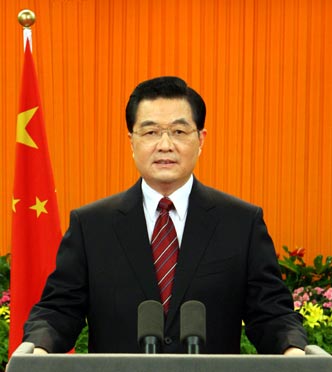 Chinese President Hu Jintao delivers his New Year Address, broadcast through state radios and television, in Beijing, ahead of the New Year's Day 2007. [Xinhua]


"We have taken another firm step towards the goal of an all-round well-off society," Hu said.

He also stressed the urgent need to restructure the economy and to boost efficiency in the consumption of resources.

China's total foreign trade volume was expected to exceed $1.75 trillion this year, about 24 percent more than last year, a spokesman for the Ministry of Commerce told a news conference.

Hu said the country had made a contribution to global peace in 2006 with active diplomacy amid "profound and complex" changes in an "increasingly multipolar" world.

"China has actively promoted the resolution of some hot and difficult international issues," he said.

China has hosted several rounds of six-party talks aimed at defusing the North Korean nuclear crisis, the latest of which convened in Beijing this month after Pyongyang tested a nuclear device in October.

Mutually Beneficial

"The tenet of China's foreign policy is safeguarding world peace and promoting common development. We will unswervingly take the path of peaceful development and implement the mutually beneficial strategy of opening up," Hu said.

Hu listed terrorism, regional conflict, international crimes, epidemics and natural disasters as global problems and said China was willing to offer help within its reach to "people suffering from wars, poverty and diseases" around the world.

Foreign Minister Li Zhaoxing congratulated China for its work in 2006 trying to resolve the Iranian and North Korean nuclear crises and said the country was a good friend to the world.

"In the past year, China has played a constructive role in many major international and regional issues, such as the Korean peninsula nuclear issue and the Iranian nuclear issue," Li said.

"China has proved through action that she is a good friend and partner of the world people."
Most Commented/Read Stories in 48 Hours