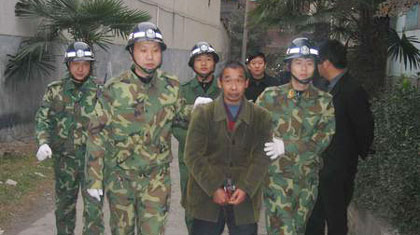 Qiu Xinghua is escorted away for execution after the appeal court upheld the death sentence in Shaanxi Province December 28, 2006. [CFP]



At 9:57 am yesterday, Qiu Xinghua was executed with a single gunshot near a river in Ankang, Shaanxi Province.

The 47-year-old farmer, who told the court "I must pay for what I did," paid for it with his life for killing 11 people and seriously injuring two in July.

Related readings:


Temple killer appeals against penalty


Trial of temple slayer to be televised


Pressures drove farmer to kill


Man to stand trial for temple killings

The final verdict, announced at 9 am by the provincial High People's Court, dismissed Qiu's appeal, and said it was unnecessary to subject him to a psychiatric examination citing lack of convincing evidence.

A high court source said that during the investigation, interrogation and court hearings, Qiu dubbed the "Temple Killer" seemed to think and behave normally.

During the hearing of the appeal in the second trial, Qiu stated that he was normal and did not want a psychiatric examination.

The court found that Qiu killed 10 people in a temple near his home, because he thought one of the victims flirted with his wife which was found to be not true.

Using an axe and knives, he hacked them to death while they were asleep at night.

As he was trying to flee, he robbed and killed another person and injured two.

Qiu was arrested in August and sentenced to death in October.

However, lawyers and scholars have voiced doubts about Qiu's mental state.

Liu Xiwei, a 73-year-old psychiatrist, made a written request to the authorities asking for a psychiatric examination to be conducted as Qiu's behaviour exhibited what he called typical symptoms of mental diseases. Neighbours confirmed that Qiu's mother is mentally abnormal.

A defence lawyer's request for a psychiatric evaluation was made during the second trial on December 8, but it was turned down. Three days later, five law professors published an open letter in the media calling for Qiu to be psychologically evaluated. They argued that if the request were not granted amid rising misgivings, it would harm his rights.

"What we care about is not the specific case, but the integrity of the country's judicial system," the experts said.

The Criminal Law stipulates that if a mental patient's actions when he is unable to control himself lead to dangerous consequences, he shall not be held criminally responsible.

However, some experts believe that Qiu was clear-minded while committing the crimes.

Li Meijin, a psychology professor at the Chinese People's Public Security University, said Qiu filled in a psychological questionnaire which showed he was in control of his faculties.

There has been some speculation that the provincial high court would not deliver the final verdict before the year-end, as the Supreme People's Court re-assumes the power of death penalty review from local high courts starting January 1 a change aimed to exercise strict control over the penalty.