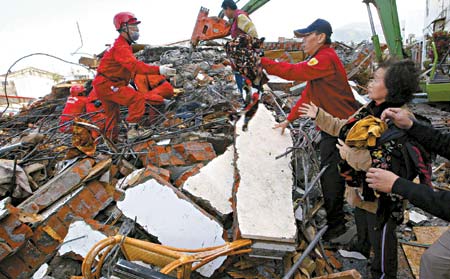 Rescue workers search for survivors at a collapsed building in southern Pingtung county December 27, 2006 after a strong earthquake shook Taiwan. [Reuters]

Access to overseas websites from the Chinese mainland slowed to a crawl yesterday as a powerful earthquake off the Taiwan coast knocked off international undersea fibre-optic cables on Tuesday, affecting communications around Asia.
It is believed to be the most serious disruption since 2001, when a submarine cable connecting the mainland with the United States was cut off more than four times, mostly by fishing boats.
Related readings:


Clean-up starts after quake kills 2; mainland sends condolences


Page not found...


Quake struck off Taiwan (photo)


Taiwan quake triggers tsunami alert (photo)


Tsunami alert as quake hits Taiwan


It is not clear when normal service will be restored.

China Telecom Corp, the mainland's largest fixed-line carrier, said six undersea cables were cut off 15 kilometres from the southern coast of Taiwan, causing severe Internet congestion on the mainland. International voice calls were also affected.

A survey by Internet portal Sina.com yesterday showed that 97 per cent of Internet users on the mainland had difficulty accessing overseas websites, and 57 per cent said their lives and work were affected. But access to mainland websites remains normal.

Such disruptions underscore the increasing importance of back-up systems.

"We have to use alternative cables as well as satellite communications," said Xu Yongming, an official in charge of China Netcom's international network.

He added that mainland operators are working with their overseas counterparts to repair the damaged cables.

"Aftershocks off Taiwan make it even harder to repair the damaged cables," said a China Telecom spokeswoman.

The disruption affected telecommunications services in Hong Kong, Taiwan, South Korea, Singapore and Japan and paralyzed some banking services.

In Hong Kong, Internet connection, long distance calls and online financial transactions were affected, but the stock exchange said operations were normal.

Internet connection speed was much slower than normal. Some overseas websites in the United States, Britain and Taiwan could not be accessed. Emails and online chatting were barely functioning.

Internet Society of Hong Kong Chairman Charles Mok said overseas users connecting to Hong Kong and the mainland's websites were also affected.

Hong Kong Computer Emergency Response Team Coordination Centre Manager Roy Ko said it might take months to repair the cables.

Taiwan's Chunghwa Telecom may be hardest hit. It said repairing the cable could take three weeks, adding that almost no calls could be made to Southeast Asia.

Chunghwa said voice calls to the mainland, Japan and the United States were down 10, 11 and 40 per cent of normal capacity.

The Chinese mainland is less affected as operators here have alternative lines away from quake-hit Taiwan, said Xu with Netcom.

He said it may take a shorter time to restore communications on the mainland but limited capacity could slow down access to overseas websites, especially during peak hours.

Current Internet networks on the mainland already face a bottleneck in capacity given the growing popularity of broadband Internet access as well as data-heavy services such as video downloads.

At the end of November, the mainland had 51 million broadband Internet subscribers, an increase of 13.7 million compared to the end of last year, according to the Ministry of Information Industry.

China Telecom Executive Vice-President Leng Rongquan last week said the current submarine cable network linking China and the US will not be able to meet demand after 2008.

Six operators from China, South Korea and the United States including Verizon Business last week signed a deal to build a submarine cable linking China and the United States at an investment of US$500 million.

The new cable will have more than 60 times the overall capacity of the existing one linking the United States and China.

Teddy Ng, Louise Ho and Lillian Liu contributed to the story from Hong Kong

(China Daily 12/28/2006 page1)