Japan, China to hold talks to narrow history gap
(Reuters/Xinhua)
Updated: 2006-12-25 14:30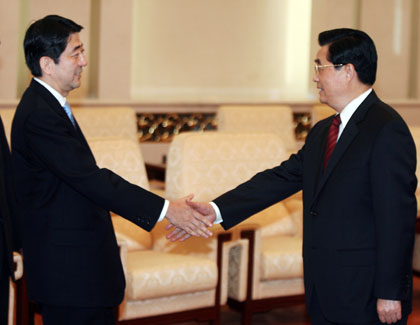 Japanese PM Shinzo Abe (L) meets with Chinese President Hu Jintao at the Great Hall of the People in Beijing October 8, 2006. [Reuters]



TOKYO - Japanese and Chinese academics will start joint studies on their long and sometimes war-torn history this week as part of the two countries' efforts to improve ties strained by persistent disputes over the past.

Sino-Japanese relations were frosty for much of the past half-decade, largely because of former Prime Minister Junichiro Koizumi's annual visits to Tokyo's Yasukuni Shrine, seen by Beijing as a symbol of Japan's past militarism.

Koizumi's successor, Shinzo Abe, moved to mend fences, visiting China in October just weeks after he took office. At a meeting with Chinese President Hu Jintao, the two leaders agreed on the need for joint history studies.

Twenty academics, 10 from each side, will meet for two days in Beijing from Tuesday in the first round of what is expected to be twice-yearly discussions that aim to conclude with a report sometime in 2008.

Shinichi Kitaoka, a political science professor at the University of Tokyo who heads the Japanese group, said gaps between the Asian neighbours' perceptions of history were too great at present, endangering the future of the relationship.

"At the moment, we're in a very unhealthy situation where deadlock over history is preventing politicians from tackling present and future issues," he told a recent news conference.

"The gap is too wide. I don't intend to forcibly fill it altogether, but I intend to narrow it as much as possible through academic debate," Kitaoka said.

Along with ancient and mediaeval history, the academics will look into the contentious area of modern history, when Japan invaded and occupied parts of China from 1931 to 1945.

Chinese state media have played down the initial phase of the talks, suggesting that finding any common ground could take some time.

Bu Ping, director of the Institute of Modern History at the Chinese Academy of Social Sciences and head of the Chinese delegation, said no specifics would be discussed at the first meeting.

"Instead, it will concentrate on the working process, principles and purposes," the newspaper said.

Ties between the two countries hit a low with Koizumi's visits to the Yasukuni Shrine.

Koizumi had insisted that he went to the shrine to pay respects to the 2.5 million Japanese war dead honoured there, but China protested because the shrine also memorialises some convicted war criminals, including World War Two Prime Minister Hideki Tojo.

Japanese government approval of a textbook that critics said whitewashed Japan's wartime atrocities triggered sometimes violent demonstrations across China in April of last year.

While Abe has made headway in repairing ties with Beijing by taking a policy of "strategic ambiguity", not stating whether he would go to Yasukuni in the future, some potential pitfalls remain.

Lawmakers in Abe's ruling party have formed a group to review a 1993 government statement acknowledging the Japanese Imperial Army's involvement in recruiting so-called comfort women to work in brothels and serve Japanese soldiers.

China will be watching to see whether Abe stays away from Yasukuni. Before he became prime minister Abe had defended Koizumi's visits and had often gone to the shrine himself, including as recently as last April.

The academics know the studies will be no easy task.

"Results will not show up so easily," Kitaoka said.

A similar joint history study between Japan and South Korea took three years and the final report released last year only highlighted their differences, stating the views of both sides.

| | | |
| --- | --- | --- |
| 1 | 2 | |
Most Commented/Read Stories in 48 Hours