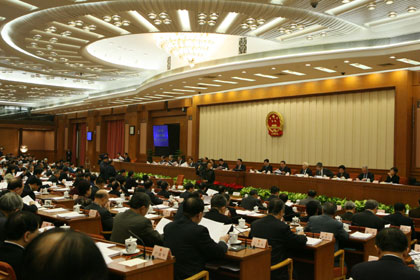 Members of the Standing Committee of the National People's Congress deliberate the daft of corporate income tax law in the Great Hall of the People in Beijing December 24, 2006. [Xinhua]



After enjoying favourable tax policies for decades, overseas companies may have to pay the same as their Chinese counterparts a unified corporate income tax of 25 per cent.

The Standing Committee of the National People's Congress (NPC), China's top legislature, yesterday mulled a draft law that aims to unify income tax rates for domestic and foreign companies to ensure a "level playing field."

The draft law, tabled at the 25th session of the 10th Standing Committee, suggests a tax rate of 25 per cent with a 5-year grace period for foreign businesses. The committee will vote on Friday on whether it should recommend the law to the full session of the NPC next March.

Companies in China currently pay income tax at a nominal rate of 33 per cent. But because of various tax waivers and incentives some of which were initiated in the early 1980s to attract overseas capital foreign businesses actually pay about 15 per cent while most domestic enterprises pay 24 per cent.

The generous incentives have fuelled foreign capital inflows. Figures from the Ministry of Commerce show that China has been one of the world's top destinations for foreign direct investment, hitting US$53.5 billion in 2003, US$60.6 billion in 2004, and US$72.4 billion last year in terms of the amount actually used.

However, the tax gap has sparked great controversy in recent years. Domestic companies facing tough global competition after China's entry into the World Trade Organization in 2001 criticize the two-tier tax system for offering an unfair advantage to foreign counterparts, while the latter complain that local businesses are able to obtain preferential loans.

Some domestic investors have even made use of the current policies by registering a company abroad and then come back as foreign investors for tax waivers.

To create a taxation environment that favours fair competition among all ventures in China, Finance Minister Jin Renqing said yesterday that the reform of the tax system should not be delayed.

He said the proposed 25 per cent tax rate is low compared to most other countries. Studies show that the average corporate income tax rate in 159 countries and regions was 28.6 per cent last fiscal year, 39.3 per cent in the United States and 35 per cent in India.

Any favourable polices, the draft law says, will apply to both local and overseas companies.

Small businesses which now pay either 18 per cent or 27 per cent depending on their profit level or the region and industry they are in, will have to pay a unified 20 per cent.

In addition, high-tech companies will pay a lower tax rate of 15 per cent; and investment in agriculture, forestry, fishing, and infrastructure such as airports, railways and irrigation works shall enjoy favourable policies.

Figures from the Finance Ministry show that the corporate income tax collected reached 551 billion yuan (US$71 billion) last year, accounting for 17.85 per cent of the total tax revenue.

However, after the law's implementation, the State coffers will face an estimated reduction of 93 billion yuan (US$11.6 billion). Although tax collected from foreign companies will rise by 41 billion yuan (US$5.1 billion), collections from domestic business will shrink by 134 billion yuan (US$16.8 billion).

But the ministry believes that China's fast-growing economy and growth momentum of fiscal revenues can absorb the loss. It also believes that the tax rate change will not result in a sharp decrease in foreign investment, as a stable society, vast market potential and low labour costs are major attractions.

Legislators also started Sunday debating the landmark draft property law for a record seventh time.