Mine deaths down; corruption hurting safety efforts
(Agencies)
Updated: 2006-12-21 14:11
The death toll is down in China's accident-plagued coal industry, but local officials who collude with bosses of dangerous mines are hurting safety efforts, government officials said in Beijing Thursday.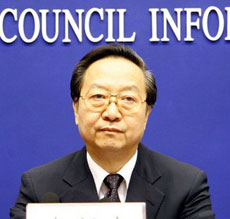 Li Yizhong, minister of the State Administration of Work Safety, speaks at a press conference on China's mining safety efforts in Beijing December 21, 2006. [china.com.cn]


Dozens of officials have been punished for corruption or negligence in fatal accidents in the past year, said Li Yizhong, minister of the State Administration of Work Safety.

"There is corruption involved in the accidents," Li said at a news conference.

Li said the death toll in coal mine accidents so far this year is down 21 percent, though he didn't give a number of deaths.

Some 6,000 Chinese miners were killed last year in fires, floods, cave-ins and other disasters despite repeated official promises to improve safety. Many deaths were blamed on managers' indifference to safety rules or lack of required equipment.

Investigations of the deadliest mine accidents last year found that many were due to the failure of officials to enforce safety standards, Li said. He said some took bribes or illegally owned shares in mines they were supposed to regulate.

"Some government officials colluded with owners," he said. "Also, some local governments developed countermeasures against policies from higher levels and acted as protectors of illegal activities."

China is such a large country, and a developing one at that, with 1.3 billion people and is in a rapid pace of industrialisation, so accidents happen easily and cannot be avoided," he added.

"In the next 10 or 20 years, it will be a development opportunity period as well as a time for very obvious contradictions," said Li, who admitted he felt a heavy burden in dealing with China's horrendous safety issues.

"The situation is generally stable and improving, but still serious. I have to say both of these sentences," he said. "We will not be successful overnight."

In a report on China's seven deadliest mining accidents and four other industrial disasters since late 2005, Li said 45 officials were fired and 117 prosecuted for corruption, dereliction or other offenses.

Those punishments, many of them reported earlier, included the firing of two deputy provincial governors.
The deadliest accident in the report was a November 2005 mine explosion in the northeastern town of Qitaihe that killed 171 miners after coal dust caught fire.

Li's report Thursday said six managers of the Qitaihe mine and two local officials were prosecuted but did not give details.


Most Commented/Read Stories in 48 Hours