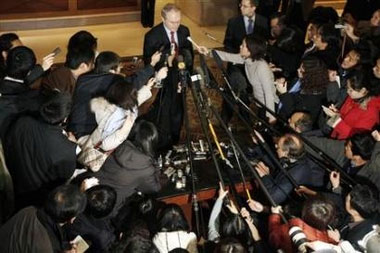 Christopher Hill, U.S. assistant secretary of state for East Asian and Pacific Affairs, speaks to the media in a hotel lobby after arriving in Beijing on December 17, 2006, ahead of the six-party talks. [Reuters]


With the arrival of U.S. and Japanese delegations on Sunday afternoon, all the five foreign delegations have converged in Beijing for the second phase of the fifth-round six-party talks.

Before the talks to be formally launched on Monday morning, the six delegations are expected to hold several bilateral consultations later on Sunday, making final preparations for the Monday's resumption.

Both the U.S. and Japanese sides will hold bilateral talks with China, the Republic of Korea (ROK) and Russia, respectively, later on Sunday.

The DPRK (the Democratic People's Republic of Korea) needs to get serious about the denuclearization issue, said U.S. chief negotiator Christopher Hill upon his arrival.

"If they want to get out of the sanctions, they should denuclearize," Hill added.

Hill and his delegation came by the same plane with the Japanese delegation which is headed by Kenichiro Sasae, director-general for Asian and Oceanian Affairs of Japanese Foreign Ministry.

Before arriving in Beijing, Hill and Sasae had talks in Tokyo on Saturday, and the two sides agreed that the fate of the upcoming multilateral talks depends on whether the DPRK takes concrete steps for denuclearization.

"It is important that through this round of talks the DPRK will make a concrete step towards denuclearization," said Sasae when arriving at hotel.

"In order to reach this goal, Japan will do its best and take suitable policies to attend the talks," Sasae added.

The Russian delegation arrived in Beijing on Sunday morning and the delegations from DPRK and ROK have arrived here Saturday.

Launched in 2003, the six-party talks have been held for five rounds. However, the talks have remained on hold since the DPRK walked out of the negotiations more than a year ago in response to U.S. sanctions.

Over the past 13 months, the parties concerned have been engaged in a flurry of diplomatic activities in order to resume the talks.