BEIJING, Dec 16 - China, hosting its first major energy summit on Saturday, urged top oil consumers to join together in the face of resurgent producer power and sought to paper over differences on how best to achieve energy security.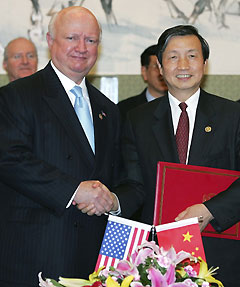 U.S. Department of Energy Secretary Samuel Bodman (L) and China's National Development and Reform Commission Chairman Ma Kai shake hands after signing a memorandum of understanding in Beijing December 16, 2006. [Reuters]

Ministers from the United States, India, Japan and South Korea -- nations that consume nearly half the world's oil -- gathered in Beijing for the meeting, which marked a rare move by China to take a leadership role on global energy issues.

"We want to send out an important, positive message, which is: the world's key energy consuming countries plan to strengthen mutual cooperation," China's top energy policy maker Ma Kai said.

"(We will) promote conservation of oil, improvement of energy efficiency, strong development of oil alternatives, and reduce reliance on oil," he added in prepared remarks to the closed forum.

It may reflect shared concern over increasingly nationalistic policies in major oil and gas producers that threaten to stymie investment and limit new supplies.

Producer cartel OPEC will see its power expand when new member Angola joins next year.

Ma emphasised that the five countries had common problems and could benefit from a joint approach to tackling them -- but shied away from touching on the different approaches to security that have complicated some relationships.

Among bilateral deals finalised on the summit sidelines was a multi-billion dollar agreement for U.S.-based Westinghouse Electric Co. to build four nuclear plants in China.

The contract could help smooth a relationship dented last year when a bid by China's CNOOC Ltd. for U.S. producer Unocal was withdrawn in the face of fierce Congressional opposition.

PRICE, EQUITY ISSUES

Ma's U.S. counterpart, Energy Secretary Sam Bodman, echoed calls for greater cooperation, but also highlighted U.S. concerns about subsidised prices and a global race for assets.

"I believe our mutual long term economic goals will be best served by relying on global markets to set prices, in both the upstream and the downstream and both internationally and domestically," he added.

The United States has tried to discourage Beijing's pursuit of equity stakes in energy projects overseas, and Bodman repeated the U.S. position that well-functioning markets were a better guarantee of smooth supplies than owning oilfields.

"It seems as though there is a growing trend to equate energy security with ownership of energy reserves, rather than broad access to reserves," he said, according to a copy of his remarks.

Ma also reiterated Beijing's core energy policy of self-sufficiency, a source of concern for environmentalists as China's number one fuel resource is coal.

However Beijing is pouring money and expertise into programmes designed to exploit its coal in cleaner ways, from liquefaction to chemicals production and zero-emissions projects.