BEIJING - China and the United States on Saturday signed a memorandum that Washington said "will pave the way" for Westinghouse Electric Co. to build four civilian nuclear power plants in China in a deal estimated at $8 billion.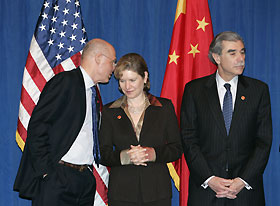 U.S. Treasury Secretary Henry Paulson (L) talks to Trade Representative Susan Schwab (C) as they and Commerce Secretary Carlos Gutierrez attend a news conference with the U.S. delegation for the first China-U.S. Strategic Economic Dialogue in Beijing December 15, 2006. [Reuters]

Pittsburgh-based Westinghouse, recently acquired by Japan's Toshiba Corp., had been pressing, with government backing, to win tenders for China's third generation of nuclear power plants since 2004.

Talks had previously come to a stand-still over the high price tags on the foreign reactors, with China asking for more technology transfers and a cheaper deal.

Other suitors included France's Areva, with French President Jacques Chirac lobbying Beijing on an October visit, and Russia's Atomstroiexport.

Stephen Tritch, Westinghouse Electric Co. President and CEO, said the deal was a multi-billion dollar one, but gave no specifics. Past estimates put the deal at $8 billion.

"The initial agreement between China and Westinghouse is for four reactors, two at each site in Sanmen and Yangjing," the Department of Energy said in a statement released after the signing on the sidelines of a five-nation energy summit.

Tritch and President of China State Nuclear Power Technology Corp Company, Chen Zhaobo, also signed papers at a ceremony at the Diaoyutai State Guesthouse in Beijing on Saturday.

The plants will be Westinghouse's AP1000 design, with capacity of 1.1 gigawatts each. Tritch said the company wants them up and running by 2013.

China, the world's second-largest energy consumer, plans to spend some 400 billion yuan ($50 billion) on building around 30 new nuclear reactors by 2020, bringing its installed nuclear capacity to 40 gigawatts.

It currently has nine working reactors that supply around 2.3 percent of its electricity, but aims to boost the amount of power it gets from nuclear plants to 4 percent within 15 years.