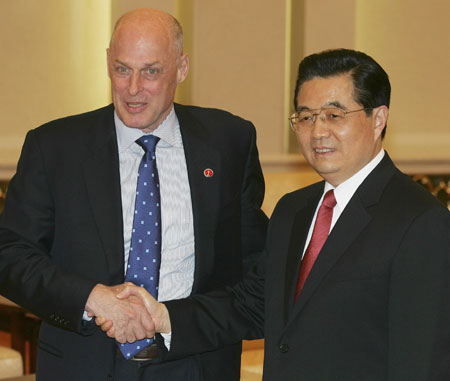 U.S. Treasury Secretary Henry Paulson (L) greets China's President Hu Jintao after the closing of the Strategic Economic Dialogue at the Great Hall of the People in Beijing December 15, 2006. [Reuters]

The first high-profile economic talk between top American and Chinese officials in Beijing has achieved tangible results: Beijing will invest in an American-led clean coal technology project; the New York Stock Exchange and NASDAQ is allowed to open Chinese offices.
And, China's most powerful woman, Vice-Premier Wu Yi, said that Beijing will do more to liberalize its currency valuation regime, which American officials believe is now undervalued and has attributed to the trade imbalance between the two giant economies.
For his part, U.S. Treasury Secretary Hank Paulson, the head of the Bush administration economic team, promised that America will try to increase its dismal savings rate. American consumers simply cannot spend more than they earn, he said.
Paulson, a well-weathered investor turned politician, knew he couldn't come home to Washington empty-handed, hence the energy, stock exchange and other concrete deals. And, it is his belief and gauge that Chinese leaders are genuine reformers, just more gradual than Americans would like.
"There's no doubt the Chinese were committed to reform," Paulson told Fortune magazine reporters during a brief limousine ride back from his private meeting with President Hu Jintao at the Great Hall of the People on Friday.
Paulson, facing pressure from Democrats on Capitol Hill who blame inexpensive Chinese competition for American trade debt, said the NYSE-NASDAQ deal "a symbolic milestone toward China's further integration into the global marketplace." "This is the beginning of a conversation of a level and scope that hasn't been witnessed before," said a senior Treasury official.
U.S. Trade Representative Susan Schwab said the American delegation "asked and received assurances" from Beijing that economic reform was not stalling, though she added " there are some voices there that want to turn back the clock.
Federal Reserve Chairman Ben S. Bernanke tried to drive home American concerns, with a Friday afternoon speech to elite members of the Chinese Academy of Social Sciences, a top Beijing think tank. "The fact that Ben Bernanke was there gave a whole new dimension to it," said Paulson.

In his remarks, Bernanke argued that flexible exchange rates were in China's best economic interest, and will also be helpful in addressing the trade debt of the United States. During the two-day session, though Chinese officials responded to U.S. pressure for more currency flexibility by expressing concerns over the country's economic stability if its currency rose in value, the currency, the yuan, did rise to a new record high. And, Chinese domestic money analysts predict it will gain more grounds against the greenback in 2007.
And, there are more demands from the Americans. In his speech, Bernanke said that while a more flexible yuan rate would be helpful, a more direct way to address the global imbalance is to reduce China's savings rates. The country's high savings rates, he said, reflect China's "thin social safety net", that means that families have to save for medical expenses, their old age and children's education.
However, in the language of global economic imbalances, it's hard for Americans to complain about Chinese families saving their earnings without the Chinese bringing up the American practice of spending far more than they earn. Americans are simply over-spending. So, like Paulson, Bernanke lowered his critique of Chinese savings rate with a self soul-searching that the U.S. needs to save more and borrow less.

With a second meeting of the Strategic Economic Dialogue scheduled for Washington in May 2007, officials from both countries agreed to form study groups to address how to further open up China's services sector, improve rural health care, address environmental and energy concerns and inject more transparency into areas like the regulatory process. They also agreed to continue discussing trade concerns, as well as how to better police copyright and trademark piracy.