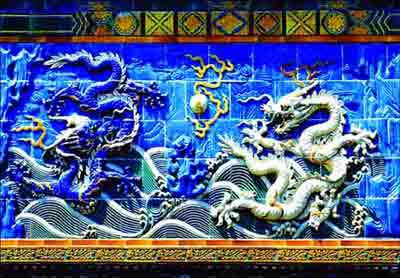 The fate of the dragon, China's thousands-of-years-old national symbol, has fallen into a swirl of uncertainties as professors and civilians interpret the virtual animal in totally different ways.
Jin Lixin, a professor of the Language and Culture Research Institute at the Shanghai International Studies University claimed the animal was a symbol of China's feudal system and monarchy, and as such should be repealed, the Nanfang Metropolis News reported on December 12.
Jin said the mythical animal is not an appropriate mascot for China as it is a symbol of a feudal society.
The unprecedented discussion about the dragon has reached a fever pitch and web portal bulletin boards are brimming with varying opinions.
Jin's remarks came just days after his colleague Wu Youfu asserted that the dragon was likely to cause Western countries to misunderstand China and also present a negative image to the outside world.
Previous reports indicate that if a new national icon is created, the 7,000-year-old dragon image is likely to be replaced.
It may be hard for Chinese who are used to being called 'descendents of the dragon' to accept that the dragon is on the path to extinction.
Some posters on sina.com recommend using the original Cantonese term for dragon, 'loong' instead.
According to Jin, Chinese terms using the dragon are always linked to feudal emperors.
Examples Jin gave include the expression 'dragon's face', a term meaning referring to the emperor's temper.
The dragon is based on a 7,000-year-old Chinese legend, and has a horse's head, a snake's body and chook's claws. It represented the emperor's power during the years of China's feudal system and it is also a symbol of auspiciousness and wealth among the people.
In Western culture, the dragon is a different kind of creature that breathes fire.
In Jin's opinion, the origin of the Chinese dragon is a ruthless crocodile.
Jin claimed that Chinese people are used to worshipping the dragon, which is a symbol of imperial power and in this sense continue to succumb to the cruelty and dictatorship of the feudal system. Chinese people lack courage, and this is a defective characteristic of the Chinese race.
Jin also rejected the auspiciousness aspect of the dragon. He said that since people have to worship the dragon before receiving good luck, it is a reflection of dictatorship.
The dragon differs from other countries' totems in that it is not a virtual symbol, such as the US eagle or the Russian bear.
China's cultural critics express different views on the issue.
"The dragon in the West is not evoking reactions similar to those towards the carnivorous dinosaur, as feared, but more a feeling of apathy. It is not as awe-inspiring as the dinosaur, and certainly not as beloved as the panda," cultural critics Raymond Zhou wrote on his Web log.