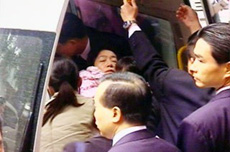 Wu Shu-chen, wife of Taiwan leader Chen Shui-bian, is carried away after she collapsed during a court session in Taipei December 15, 2006.


TAIPEI - The wife of Taiwan's embattled leader Chen Shui-bian has collapsed and was taken to hospital for checks just after the start of her high-profile trial on corruption and forgery charges.

Wu Shu-chen, who stands accused of illegally claiming 14.8 million Taiwan dollars (US$450,000) in personal expenses from special government funds, was rushed to nearby National Taiwan University Hospital after fainting during a recess.

It was unclear whether the wheelchair-bound Wu, 54, would return to court later Friday.

Legal experts said the trial in Tapei could be halted indefinitely because the law stipulates that hearings should be stopped if the accused is unable to attend for health reasons.

The landmark case could end Chen's "presidency" as the leader has promised to resign if his wife is found guilty.
Special coverage:
Chen Shui-bian Under Fire

Related readings:
Chen Shui-bian's wife stands on trial
Dirty tricks alleged in Taiwan
KMT candidate elected Taipei mayor
Secret fund case should be resolved by Taiwan people
Taiwan's KMT chairman to resign if charged
Prosecutors indicted Wu and three of Chen's aides last month, but Chen escaped immediate prosecution because of his immunity.

Chen has denied any wrongdoing and said the embezzlement allegations were unacceptable.

The indictment of Wu, the first Taiwanese leader's wife to be prosecuted, sent political shockwaves through the island and forced the ruling Democratic Progressive Party (DPP) to suspend her membership for 18 months.

Once her husband's leading asset on the campaign trail, Wu is now in poor health, according to her relatives, and has been paralysed from the waist down and confined to a wheelchair since she was run over by a van in 1984.

Chen's DPP filed a petition Thursday with the "Council of Grand Justice" in a last-ditch bid to stop the trial going ahead, but it usually takes months for the body to make a decision.

The corruption charge carries a minimum seven-year prison term and forgery at least one year.

The trial has drawn intense media and public attention and Wu turned up at the tightly-guarded court in front of a scrum of reporters and cameramen.

Chen has admitted using false receipts to claim money from the special fund, but insists that it was used for "secret diplomatic missions" that he could not disclose.

Prosecutors, however, claimed that at least US$1.5 million were spent on diamond rings and other luxury items for his wife.

The opposition says it suspects much of the money went into the pockets of the "president" and his family.

Pressure had mounted on Chen to resign amid a string of corruption scandals implicating himself and his family, but he has insisted he will stay until his second and final term ends in May 2008.

His son-in-law, Chao Chien-ming, has gone on trial for insider trading, and a verdict on his case is expected later this month.

Chen Che-nan, a former senior "presidential" aide, was sentenced to 12 years in prison for corruption by a district court Wednesday.

Last month, Chen survived a third parliamentary vote aimed at ousting him after the opposition failed to garner enough support.

Two earlier recall motions failed to pass in June and October.