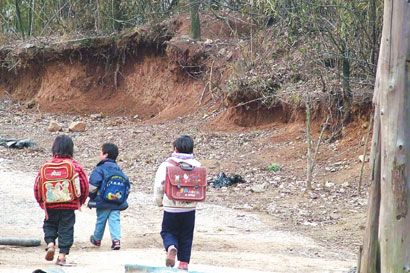 Back to school: Three pupils go to school in the rural area of Suzhou, Jiangsu Province in this file photo. With fees waived, about 150 million rural kids will enjoy free schooling. [newsphoto]



A total of 150 million rural students in China will be exempted from paying tuition and incidental fees for their nine-year compulsory education when the second phase of the programme is implemented in the spring semester of 2007, a senior official at the Ministry of Education said yesterday.

The move is expected to cost 15 billion yuan (US$1.88 billion) per year, Wang Xuming, spokesman of the Ministry of Education, told China Daily.

But children of migrant workers, who are from the rural areas and studying in the cities, are not included, Wang said.

The exemption was announced by Premier Wen Jiabao in a speech in March 2005. It is part of a major move to relieve the financial burden of farmers and to develop a new countryside.

Exemption of agricultural taxes across the country were also announced this year.

Starting from next year, every primary school pupil in the rural areas will save 140 yuan (US$17.5) and every secondary school student 180 yuan (US$22.5). Students at boarding schools in poverty-stricken areas will be able to save as much as 550 yuan (US$68.8).

"It may not be a big sum of money for an urban family, but it can be something important for a rural one, especially one in poverty-stricken areas," said Liu Shangxi, deputy director of the Financial Science Research Institution under the Ministry of Finance, which has allocated funds for the move.

The average net income of rural residents was 2,936 yuan (US$367) in 2004, according to the National Bureau of Statistics.

In the first phase of the programme, which started in the spring semester of 2006, more than 50 million rural students in China's western provinces were exempted from paying tuition and incidental fees, according to Wang.

To implement the exemption decision, governments in the provinces involved have already drafted or published regulations concerning the issue, said a Xinhua News Agency report yesterday.

For example, the provincial government of Central China's Henan Province published a series of regulations about relieving farmers' financial burdens on Monday, and one of them stipulated that rural students will be exempted from paying tuition and incidental fees from next spring.

"All the basic expenses of rural schools will be included in the governmental budget," it said.

"No school should charge fees from students to pay for its expenses or debts."

Children of migrant workers who are studying in the cities will be the responsibility of those governments.

"Governments of different places have different policies - some may cover their fees and others may not," Wang told China Daily.

There are more than 370,000 such children in Beijing, according to statistics from the Beijing municipal government.

Nearly 40 per cent of them are not admitted by local public schools and have to study at schools set up by migrant workers, most of which are illegal.

There were 239 such schools in Beijing last year, according to statistics from the municipal bureau of education.