China will respond positively to the United States in the Economic Strategic Dialogue between the two sides, which is to be held later this week, the central bank chief said on Monday in Beijing.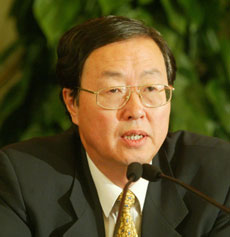 Zhou Xiaochuan, governor of China's central bank. [newsphoto]


"(US Treasury Secretary) Hank Paulson raised the issue of having an economic dialogue. We are prepared to give a very positive and active response to that," Zhou Xiaochuan, governor of the People's Bank of China (PBOC), said at the Caijing Magazine Annual Conference.

"This is a very important strategic dialogue and probably it's good for policy co-ordination and also for trade imbalances and many other issues," Zhou said.

And also on Monday, the Bush administration accused China of failing to meet commitments to the World Trade Organization to open the nation's economy and crack down on piracy of foreign goods.

A 100-page report to Congress by the United States trade representative, Susan C. Schwa, said that "some Chinese government agencies and officials have not yet fully embraced the key WTO principles of market access, nondiscrimination, national treatment and transparency." China marked the fifth anniversary of its accession into the WTO on Monday.

The report was likely to roil the atmosphere this week as Treasury Secretary Henry M. Paulson Jr. engages in a high-level effort to get China to cooperate in important issues, analysts said.

The China-US dialogue issue was raised in September by Paulson when he met Vice-Premier Wu Yi during his first visit to China in his capacity as the treasury secretary.

The dialogue's first session will be held on Thursday and Friday. Zhou will be among top Chinese economic policy makers at the talks. The US delegation will include Federal Reserve Chairman Ben Bernanke, Trade Representative Susan Schwab and other senior officials.

China has taken many important steps to implement its WTO obligations, but on the fifth anniversary of its WTO membership, China's overall record is decidedly mixed," Schwab said. "At the same time, certain industries face frustrating barriers to doing business in China, and there are worrisome signs that China's market liberalization efforts have slowed in the last year."

"With five years of WTO membership experience under its belt, we believe it is fair to expect China to be implementing the letter and spirit of its WTO obligations in full," she said.

The report said the United States "will continue to seek cooperative and pragmatic resolutions through bilateral dialogue with China."

But if dialogue fails, the report threathens that the United States "will not hesitate to exercise its WTO rights" to settle disputes "as it would with any other mature trading partner." But American officials indicated that such a step would be a last resort and not likely to happen while the "strategic economic dialogue" is under way.

"The administration remains committed to working cooperatively and pragmatically with China," the report said. "When bilateral dialogue is not successful, however, the administration will not hesitate to employ the full range of enforcement tools available as a result of China's accession to the WTO, whether it be the dispute settlement procedures at the WTO or the strict enforcement of US trade laws to ensure that US interests are not harmed by unfair trade practices."


| | | |
| --- | --- | --- |
| 1 | 2 | |