Six months after it began, Zheng Baichun's website (www.2n88.com), known for defending the rights of er'nai, or mistresses, was deemed against the spirit of marital law by a legal scholar, despite the fact that over 600 unfortunate women have resorted to the website for help, wrote the Procuratorial Daily on Monday.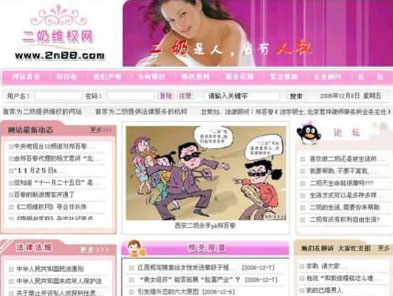 Part of a print screen of the Zheng Baichun's website defending mistress' rights. [sina.com.cn]


Zheng, a Beijing-based lawyer, set up the website in June of this year offering legal services to any unmarried women who had a stable sexual relationship with a married man who financially supported them, or er'nai.

According to Zheng, the primary concern of his website is to defend the legal rights of Chinese mistresses who are often afraid to rely on the law.

Mistresses are a vulnerable group. Many of them are either coerced or convinced to become mistresses, and are often insulted or even beaten by ungrateful men, are at the mercy of their wives impulses and suffer from social discrimination. They are deprived of child support and suffer violations of their right to property and privacy, Zheng told the paper.

"Compared with wives, who have a variety of channels through which to seek help, mistresses have a more pathetic situation. They are afraid of claiming their interests and rights, let alone turning to the court or women's federation," Zheng said.

Besides fighting for mistresses' rights, the website also offers psychological counseling. "The mistresses are often psychologically battered, and face enormous social pressure from their friends and families. Some are suicidal, others want to kill the 'ungrateful man' in their lives. We listen to them, and help them find hope for the future," Zheng said.

"Whatever their role is, they should be entitled to the protection of their basic rights as citizens," Zheng was quoted as saying. He added that those who are mistresses solely for the money don't come to him for help.

Not everyone was impressed with Zheng's website, however, especially legal scholars.

Chen Yunsheng, a law professor with Beijing Normal University, said the website went against the spirit of marital law.

"Er'nai is not a lawful status," Chen said.

He went on to say that as individuals, er'nai are entitled protection of their rights, but once they identify as er'nai , their status falls short of such protection, as existing law does not give them the right to cohabitation.

Xia Chuanluan, a famous sociologist and professor with Peking University, echoed Chen's opinion, claiming the website is legalizing the status of er'nai, which may deliver a negative message to young women that it is okay to be a mistress.

If the operator truly cares about the injured party, he should safeguard the legal interests of the men's wives rather than their mistresses, Xia said, suggesting the website be changed into one focusing on women's rights.

Wang Xingjuan, director of a Beijing psychological service center for women took issue with the name of the website. "Even if the mistresses are entitled to property and privacy rights, these rights do not originate from the status itself. Therefore, it is inappropriate to say the website is defending the rights of er'nai , or mistresses. " Wang said.

Both Chen and Wang believe the awareness of independence, self-esteem and love is the ultimate way out for mistresses.