China's President Hu Jintao may visit Japan as early as April on the first trip by a Chinese head of state since 1998 as the two countries strive to rebuild ties.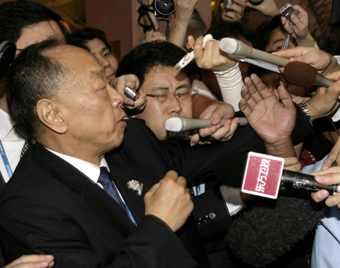 China's Foreign Minister Li Zhaoxing pushes his way through the media after a meeting with his Japanese counterpart at a hotel on Mactan Island, Cebu December 9, 2006. Japan's foreign minister invited either China's president or premier to visit Japan next spring for talks, Japan's Foreign Ministry spokesman told reporters on Saturday. Li did not give a definite response to Taro Aso's invitation during bilateral talks in the central Philippines, but expressed his appreciation, Mitsuo Sakaba said. [Reuters]


"We will continue to negotiate to the best of our abilities for the mutual benefit of China and Japan for the sake of peace," Chinese foreign minister Li Zhaoxing said on Saturday, when he met with Japanese counterpart Taro Aso in Cebu, the Philippines.

President Hu and Premier Wen Jiabao were invited to Japan by Japanese Prime Minister Shinzo Abe on a visit to Beijing on Oct. 8. Abe made the first visit to China by a Japanese prime minister in five years the day before North Korea tested a nuclear weapon.

Japan is proposing the trip take place in "spring," Mitsuo Sakaba, a spokesman for the foreign minister, said Saturday.

China and Japan's foreign ministers traveled to Cebu for the East Asia Summit, canceled yesterday because of the risk that a typhoon may strike the southern Philippine island. The summit would have gathered leaders of the 10 member states of the Association of Southeast Asia Nations, China, Japan and South Korea.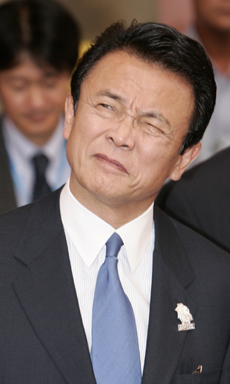 Japanese foreign minister Taro Aso looks up at the weather as he leaves his hotel following a meeting with his Chinese counterpart on Mactan Island, Cebu December 9, 2006. Taro Aso invited either China's president or premier to visit Japan next spring for talks, Japan's Foreign Ministry spokesman told reporters on Saturday. [Reuters]


Tropical cyclone Utor strengthened into a typhoon as it neared central Philippines less than two weeks after a supertyphoon left 1,200 dead and missing. Utor may pass north of Cebu City by tomorrow morning, the national weather agency said.

Record Trade

Today's meeting, that took place regardless of the summit's cancellation, was the third between Chinese and Japanese ministers since October as relations between Asia's largest and second biggest economies mend after several years of tensions. China is Japan's second-biggest trading partner. Trade between the two hit a record $189 billion last year.

Ties between the two countries soured over former Prime Minister Junichiro Koizumi's visits to Tokyo's Yasukuni Shrine, where 14 Japanese leaders convicted of war crimes are memorialized.

Abe and Philippine President Gloria Arroyo urged North Korea to return to the negotiating table during a meeting in Manila today. In a joint statement, the two leaders expressed "grave concern" over Pyongyang's nuclear weapons program, and called on the country to abandon it.

"We support the resumption of the six-party talks as soon as possible, for example in the second half of December," Li said today, referring to six-nation talks aimed at dismantling North Korea's nuclear program. "We hope for early resumption for the sake of peace in the Korean peninsula."

China, which has hosted four rounds of talks in Beijing, is working with Japan, South Korea, U.S. and Russia, to push North Korea back to the discussions that stalled late last year.

Apology

China-Japan relations turned "back on track" after Abe succeeded Koizumi in September, Councilor Huang Xingyuan of China's foreign ministry said following a meeting between Abe and Hu in Hanoi on Nov. 18.

Abe apologized to Hu for Japan's aggression in the first half of last century during his October visit.

The foreign ministers today agreed Chinese and Japanese academics would meet Dec. 26 and 27 to study the history of both countries in an aim to resolve differences over how events unfolded.