Wu Yingying, 21, holding patents for three of her 100 inventions, has become Asia operations vice president with TopCoder, a Connecticut-based multinational company before her graduation, reported the Beijing News Friday.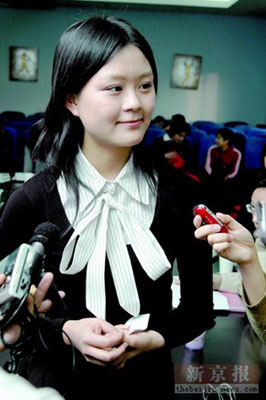 Wu Yingying, 21, a psychology major, is now the Asia operations vice president with Connecticut-based TopCoder in Oct. 2006. [Beijing News]


TopCoder Inc. is a worldwide leader in online programming and software development. According to TopCoder's Oct. 25 announcement, Wu will oversee and manage TopCoder business relationships and will build TopCoder's market presence and membership enrollment throughout the China and Asia region.
Wu's inventions, ranging from the OPEN Indexing Technology to the Dynamic Counter Cachet Technology, won her the 2006 Innovation and Technology Prize of China, an award sponsored by the Ministry of Education.
Wu was admitted to the Beijing Normal University in 2003. She led the university team in winning the runner-up title of the ACM International Collegiate Programming contest in 2005. The same year, she went to Stanford University as a visiting student.
Wu's impressive academic record at Stanford caught the attention of TopCoder, which offered her an olive branch earlier this year and tap her as the Asia operations vice president in October.
"TopCoder has a large number of Chinese members and has sought to establish a presence in China for some time, however a unique person with a highly specialized set of skills was needed," said Rob Hughes, president and COO of TopCoder, Inc.
According to Hughes, a technically talented person with business awareness is crucial for the company to stake out a place in the Chinese market, and Wu is the person they were looking for.
Wu said she won't stop researching now that she is a vice president. Her research focus is Artificial Intelligence (AI). "AI is where my beloved psychology and computer science merge, "she said.