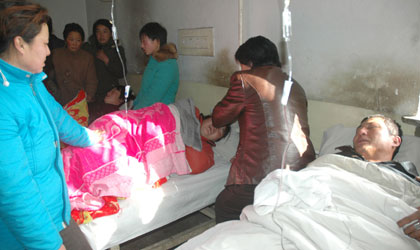 Parents of some students collapse and are hospitalized on December 5, 2006 after the sudden death of their children. Days of investigation by the police have found that the six students died of inhaling carbon monoxide. [newsphoto]


The six students who died at a boarding school in north China's Shanxi Province were poisoned by carbon monoxide, a senior police officer said on Friday.

The cause was determined after vomit samples were analyzed by labs in the provincial capital of Taiyuan and in Beijing, according to Kang Xingyou, vice director of the Shanxi Provincial Public Security Department.

The carbon monoxide came from a generator next door to their bedroom. The fumes leaked into their room through the wall, he said.

The generator was recently moved to its new place beside the children's bedroom and was in operation on Monday evening.

The two boys and four girls aged six to 10 became violently ill on Monday evening after eating supper at the primary school in Nanyao Village, Puxian County, Linfen City.

Just over an hour later, they were dead -- before getting to hospital.

Because they became violently ill it was first thought they had died of food poisoning.