Premier Wen Jiabao invited 15 AIDS-affected children to the Chinese leadership's Beijing compound to play, sing and chat on World AIDS Day, which fell on Friday.
Before meeting the premier, the children two HIV positive and 13 orphaned by the virus were given a tour of Zhongnanhai, the headquarters of the Chinese Communist Party, where generations of Chinese leaders have worked.
The children chatted and smiled as they walked through the office of former premier Zhou Enlai and the guest hall where Premier Wen Jiabao meets foreign guests.The children presented Wen their drawings, in which they pictured their life and dreams.
Standing in front a drawing entitled "We are all the same," Wen said "It is a very good name. No matter whether they are orphaned by AIDS or carrying the virus, everybody should care for them instead of casting discrimination."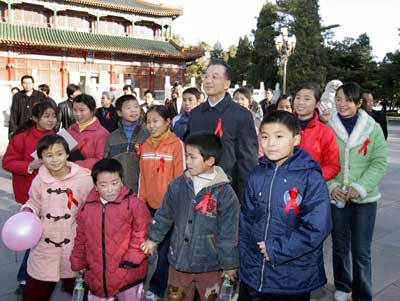 Premier Wen Jiabao invited 15 AIDS-affected children to the Chinese leadership's Beijing compound to play, sing and chat on World AIDS Day, which fell on Friday. [Xinhua]


Sitting on the sofa, the children sang a song for the premier.

"I can hear that you are singing with your hearts," Wen said, urging them to remain confident about the future.

WHO welcomes government action

The World Health Organization (WHO) on Friday welcomed China's promotion of voluntary HIV counselling and testing, hailing it a valuable approach to fighting AIDS.

As one of the activities marking World AIDS Day, the Ministry of Health kicked off a national week of HIV voluntary counselling and testing.

"Voluntary counselling and testing is important for people to be aware of the disease and hence to seek treatment," said Henk Bekedam, the WHO's China representative.

People infected with sexually transmitted diseases or tuberculosis need to be offered HIV counselling and testing, Bekedam told Xinhua News Agency.

But the service should be based on mutual consent and ensure confidentiality, he noted.

Experts said that at least 70 per cent HIV/AIDS sufferers in China have not been identified.

"A person who knows she or he is HIV positive will greatly reduce her or his chance to infect others," said Xia Guomei, a researcher with the Shanghai Academy of Social Sciences.

Since 2003, the testing and consulting service has been provided free of charge.

By the end of June, health institutes had tested 871,089 people, and found 9,567 to be HIV positive, according to figures from the ministry.

However, most of the test sites are poorly attended, even by high-risk groups, despite the fact that the service is free.

Experts said that this situation was a result of the still widely existing discrimination against HIV/AIDS carriers in China.

In addition, many people worry about their privacy cannot be well protected, Xia said.

Bekedam said the WHO and UNAIDS were working on global guidelines, which would soon be issued to encourage routine HIV testing in health care settings.

"The key conditions for this are to ensure that strong confidentiality assurances are in place and that patients are able to opt out of getting tested for HIV if they wish," said WHO spokeswoman in China Joanna Brent.

The Health Ministry reported last week that the number of people officially reported as HIV infected had risen 27.5 per cent since the beginning of the year, to more than 180,000 at the end of October.

It warned the disease was spreading from high-risk groups to the general public.

Referring to the latest figures, Bekedam said it was important to note the pattern of HIV transmission was changing.

In the 1990s, China's main transmission channel was unsafe blood, but today unprotected sex was the main way, he said.

The ministry revealed that transmission through unprotected sex had increased, with the infection rate of sex workers rising from 0.02 per cent in 1996 to 1 per cent in 2005. Surveys show only 38.7 per cent of Chinese sex workers use condoms.