Much has been made of the decline of the print medium and the rise of new media. Some have said they are mutually exclusive.
But a two-day forum that started on Thursday in Kunming, capital of Yunnan Province in Southwest China, offered a clue that the two can indeed integrate and even complement each other.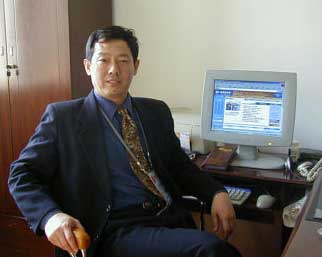 Gao Gang, deputy director of the school of journalism at Renmin University of China. [China Daily]


The integration of traditional and new media is an irreversible trend in the media industry, and the process of their integration has been facilitated through various forms, according to Cao Guowei, chief executive official of Sina.com, the country's leading news portal.

"No matter how different the traditional media stand from the new media, the basic factor for the two is that they both need news content, which binds the two media tightly together," Cao said.

The difference between the two is that the new media have changed the way they present news content, and they provide more channels to disseminate the news content.

"Based on their similarity, traditional media now depend on new media to promote themselves, which signals that their integration is a general trend," Cao said.

Keynote speakers attending the forum also emphasized that traditional media, though dwarfed now by the new media, have actually launched renovation campaigns that take in the advantages of the new media.

For instance, some newspapers are now selling their information through their own websites and value-added mobile phone services, according to Tian Yong, chief editor of the website of the government of Ningbo, a coastal city in East China's Zhejiang Province.

Tian cited the example that his website has put forth a new type of Internet newspaper that embeds both video and extended information for underlined key words.

"Traditional media are using the new media to make themselves stronger," Tian said. "If there ever comes a day when society deserts the print medium, traditional media will soon adapt themselves to the new media."

Right now several media groups in the country, including the Shanghai Media Group, are integrating their resources including Internet, television and newspapers to promote their news service in different forms.

The integration of traditional media and new media has intensified the news "war" among all media groups, which further prompts every medium to increase analysis in its content and detailed information to be able to compete.

While some media pioneers have great expectations for extended communication through the Internet, some of the country's leading website executives are not satisfied with the current technology of Internet operations.

They complain that the current technology cannot sustain the frequent visits by millions of web surfers simultaneously.

"I don't feel there has been a great technological innovation in the past couple of decades," said Jiang Yaping, deputy chief executive of the www.people.com, the website run by People's Daily.

"What we are doing now is just exploring new functions of the old technology."

Innovation key to growth

Innovation, when it comes to the Internet media, seems vital in this virtual world, say operators of major Chinese Web portals.

Blogs, video clips, connections by mobile phone, international co-operation are all innovative elements that make the Internet media survive and thrive.

Sina.com's Cao Guowei said the Internet is taken as a kind of new media because it can combine various forms of expression belonging to the traditional media, such as spoken and written words, image and video graphics, and sound.

The other unique feature of the Internet, they said, is its interactivity.

The development of technology has improved Internet access. More and more people now get access to the Internet through broadband.

Cao said that sina.com has co-operated with many movie and television companies.

"Nowadays, people can see live or selected shows on our website," Cao said. "Through video-sharing technology, netizens can now transmit their self-made video programmes, a hot spot that is coming into shape.

"The YouTube-Google merger just proves this trend.

"We've made a 'soft launch' of our video sharing, and we are the first website that offers such a platform and search engine."

Another thing that makes Sina.com proud is its blog service, which attracted the most bloggers in the country within a short time, Cao said.

The number of independent blog users on the website has already reached 3.5 million, almost 10 times that of just one year ago, he said.

The third thing Sina.com is involved in is its connection with mobile phones, providing wireless service to users.

"We are now trying to connect the Web and mobiles through every product we design and the content we promote," he said.

Blog is definitely one of the most successful magnets to attract users.

Cao Yunxia, deputy supervisor of operations of www.cctv.com, said that the establishment of some star anchors' blog on the website has drawn many clicks.

"And the establishment of a company this April means we finished the transition from a traditional news website to a comprehensive Internet medium a breakthrough in our mechanism," she said.

Tao Guangxiong, editor-in-chief of www.chinanews.com.cn, said its innovation lies in the upgrade of content of the website through international co-operation.

"Besides our news service, our good relationship with overseas Internet media outlets has enabled us to create an information platform for all the Chinese in the world in collaboration with nearly 100 overseas Chinese media," he said.

"Through the Chinese forum and our correspondent offices in the world, we have enhanced our influence with overseas Chinese communities."

Gao Gang, deputy director of the school of journalism at Renmin University of China, said: "No matter whether it's in the whole management mechanism or the specific services provided, innovation is changing Internet media on every level."