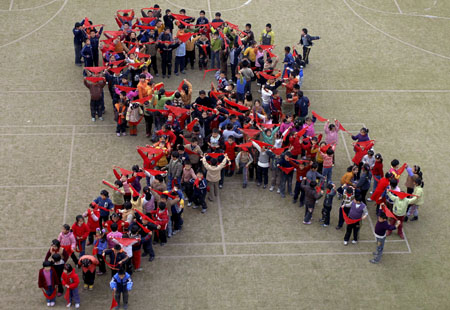 Pupils line up to form an anti-Aids symbol during an HIV/AIDS awareness rally at a primary school in Hefei, east China's Anhui province November 30, 2006. The number of reported HIV/AIDS cases in China has grown by nearly 30 percent so far this year, the Health Ministry said on Wednesday, warning that the virus seemed to be spreading from high-risk groups to the general public. [Reuters]


BEIJING -- After a year of clinical trials, two new, low-cost HIV/AIDS drugs developed by Chinese researchers have proved effective, the Ministry of Science and Technology announced Friday.

Doctor Li Taisheng, who worked on the research team, said the new drug regimens are equally effective and have similar side effects as imported AIDS treatment therapies.

The China-made therapies are only a sixth of the cost of imported drugs, according to Wang Aixia, another researcher with the program.

"A patient needs to spend about 3000 yuan (375 U.S. dollar) a month for an imported drug therapy per month, while the domestic therapy will cut the cost to 500 yuan," Wang said.

China has now developed five anti-HIV drugs, said Li, adding that different combinations of the drugs can provide different therapies.

Antiretroviral therapies or so-called "AIDS cocktails," which are comprised of of three or more anti-HIV drugs are the most effective therapy of HIV/AIDS treatment so far developed and they can help people with HIV live longer, more productive lives, according to Li.

Li's research was jointly funded by the Ministry of Public Health and the Ministry of Science and Technology in 2005. Last March, Li divided 198 HIV carriers and AIDS patients into three groups which where given different therapies.

A year later, Li's team found therapies given patients of two of the groups proved most effective and those are being recommended for application.

The Health Ministry reported last week that the number of people officially reported infected with HIV infected in China had risen 27.5 percent since the beginning of the year, to more than 180,000 at the end of October.

Experts estimate that China the actual number of people infected with HIV in China is 650,000 including 75,000 who have developed AIDS.

Since early 2003, the Chinese government began offering free antiretroviral drugs to all HIV carriers once they begin to show symptoms of AIDS.

By the end of October 2006, free medical treatment was being offered in 862 counties of 31 provinces, municipalities and autonomous regions of the country, the Ministry of Health said.

By the end of this October, 28,757 patients had received the "cocktail" treatment and that number is expected to reach 30,000 by the end of this year, according to the ministry.

In the West patients have about 20 drugs that can be used in their cocktail therapy. Hao Yang, an official with the Health Ministry, said the Chinese government was to persuade several foreign companies to reduce the price of their drugs under patent protection, or to allow Chinese companies to jointly produce them.

"The Chinese government is doing everything it can to help more people get the treatment they need," Hao said.