Beijing- A visit to Wenling city in East China's Zhejiang Province is an impressive journey in the experience of grassroots democracy, say the journalists of a recent media campaign that aims to promote Zhejiang's efforts in building a harmonious society.
In Songjian village in Wenling city, 26 village representatives and CPC members attended a meeting about land requisition and relocation for a key provincial expressway on November 22, 2006. This kind of meeting, usually called a 'democratic consultation', has also been actively promoted in other villages to enhance villagers' participation in the decision-making process and involvement in public affairs management.
Jiang Xuemei, a villager whose house will be demolished to make way for a new road, said "I agreed to move, but my family has a low income, and we can't build a new house on our own. In addition, the price is higher now than before, but the land compensation policy remains the same. Is this fair?"
"Your concern is realistic and we have been considering this problem too," said Wang Haibin, director of the Villagers Committee. He explained that the village authority will provide different kinds of compensation and assistance based upon the villagers' finance situation, for example reducing public facility fees for some poor families.
Immediately after Wang finished his words, another villager named Qiu Laifa asked "I am a farmer, and if I lose the land, what I will do in the future? "
Li Qingting answered in a local dialect that a certain quota of farmers who lose land will receive endowment insurance and villagers will receive additional compensation of 300 yuan per mu ((1/15 of a hectare)) of land.
The discussion continued for more than one hour as six more villagers asked questions related to their interests. Liu and his assistant answered in detail with the help of a Songjian Village development map and other diagrams shown on a screen. Liu has been the CPC Secretary of Songjian Village for many years, and this is the 28th democratic consultation held in this village.
"Listening to villagers' opinions can help overcome the corruption of some officials. Constructing a village infrastructure is a complicated procedure and corruption might occur at every step, for example in the purchase of building materials. From the planning to the execution, democratic consultation keeps a close eye on what we leaders do," said Li. "Now everything is on the table."
The predecessor of the democratic consultation was the 'agricultural modernization forum', first initiated in Songmen Town in Wenling City on June 25 1999. The first forum attracted hundreds of villagers to discuss a broad range of issues from investment environment to the personal disputes between villagers. Li Qingting felt excited about this method at that time and adopted it in administrating its village, which has 601 families with a population of 1800.
The "Democratic Consultation" is just like a mirror and every action of the village leaders or every project can be supervised and discussed, said an official who accompany the media visit. He said that in this way the administration becomes more transparent and there are fewer misunderstandings or complaints in implementing polices. The series of dialogue help the villagers become more aware of their legal rights, said another official from the Communication Department of Wenling City.
After the meeting, Li showed journalists around the village, a community with well-equipped facilities, such as a kindergarten, health care center and entertainment center in four districts; residential, agricultural, industrial, and public service.
"According to the international standard, an ageing society refers to one with more than ten percent of its population older than 60. More then 11 percent of the population in our village is over 60, so we will establish more homes for the aged next year here," said Li. Li also said democracy needs a process, and there are also problems in South Korea's democracy.
In other regions like Zeguo Town in Wenling City, experts are also invited to participate in the democratic consultation, which are characterized by citizens raising issues and the government handling them, and one topic per session.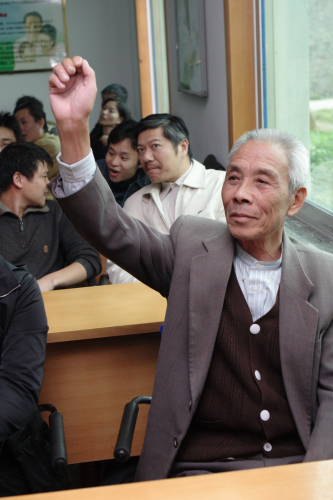 A farmer asks questions about land requisition and relocation during a democratic donsultation in Songjian Village, Songmen Town, Wenling City, East China's Zhejiang Province, November 22, 2006.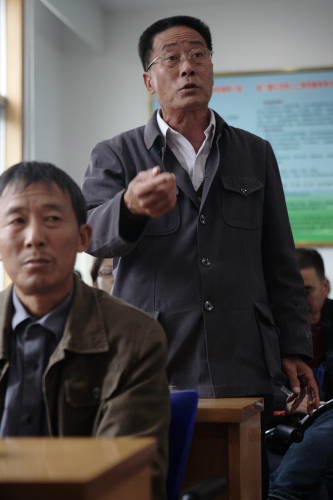 A farmer asks questions about land requisition and relocation during a democratic consultation in Songjian Village, Songmen Town, Wenling City, East China's Zhejiang Province, November 22, 2006.