Getting into college in China is tough, but some college students are trying something that is considered even harder.
Huang Wenchuan, a sophomore engineering major at Shenzhen University in South China's Guangdong Province, couldn't wait to enlist in the army in an autumn nationwide recruitment campaign.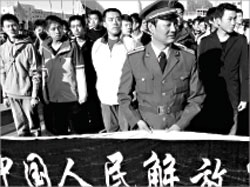 Students stand in formation at Guangming Square in Yinchuan, Ningxia Hui Autonomous Region, prior to joining the army on November 1. Altogether, some 200 university students from Ningxia said they wanted to enlist in the army this year. [China Daily]


"I've always wanted to be a soldier," said Huang, 19, whose grandfather and uncle both served in the military. "My parents wanted me to go to college, so I got in. I thought I would never be a soldier; and was so thrilled to know that I could join the army and return to school after that."
Huang was among an increasing number of applicants from universities nationwide to join the Chinese People's Liberation Army (PLA) this autumn. And the army has benefited as well in the five years the policy has been in effect because it gets more educated recruits.
More than 10,000 university students have entered the army, according to Xinhua News Agency. Of them, more than 1,000 have been awarded merit citations.
Shenzhen University is among the first group of schools that have recruited students for the military service. So far, 96 students have been admitted to the army. After serving their two-year stints, 59 returned to school with 57 excellent performance ratings and 26 merit citations.
"The past five years have proved it is a right move to recruit college-student soldiers," said Yang Yangshen, a director of the PLA General Staff Headquarters, who is in charge of the recruits, in an interview with Xinhua. "There are going to be more this year."
The recruitment of college students has a positive impact on the working ability of the army, he added, because "soldiers with higher education are more efficient. They will continue to be key to the improvement of the army."
In return for the two-year commitment, the army tries to help the students find where their talents lie. Every year, after the new recruits complete about two months of "boot camp" training, the PLA assigns them to their posts according to their majors and strong points.
However, in China where military service is voluntary, the army is made up mostly of senior middle school graduates and officers who have received additional training at one of China's military universities. College students remain a relatively small portion of the military's composition.
China is now trying to recruit more.
College-student soldiers all the rage in army
To do that, the government has implemented many favourable policies that vary according to the area from which the soldier comes. Some recruits, for example, will not have to pay their college tuition when they have completed their service.