Related readings:


Defects lead to satellite malfuntion


China launches high-power communications, broadcast satellite


Telecommunications attack stirs up public indignation


Satellite orders to boom.24m grads can't find major-related jobs
BEIJING -- Although scientists haven't given up hope of getting China's SinoSat-2 to final come online, the satellite may have to be pushed out orbit and allowed to burn up in the earth's atmosphere, said a SinoSat spokesperson on Wednesday.
Fan Xingmin, told Xinhua that although the satellite's solar array and antenna have not fully deployed, ground control can still maneuver it.
"The satellite might become space junk if it stays in the orbit but cannot work properly," he said.
Designed to be China's first direct-to-home satellite SinoSat-2 was launched on October 29. It was only revealed on Tuesday that it was not working.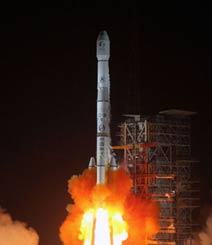 China's first direct broadcast satellite Sinoset 2 blasts off from launch pad in this picture taken on October 29, 2006. [Xinhua]


"If SinoSat-2 cannot be restored, it has to be pushed out of orbit to leave room for its substitute," he said.

The Shanghai-based Oriental Morning Post on Wednesday quoted an unidentified space expert, as saying that there is little hope SinoSat-2 can be made to work properly. The expert speculated that it will likely end up being directed toward the earth where it will burn up as it falls through the earth's atmosphere.

The satellite's manufacturer Chinese Research Institute of Space Technology (CRIST) still believes the trouble is only temporary and its researchers are trying to fix for the problem.

"SinoSat-2", is designed to serve broadcast TV, digital TV, live broadcast TV and digital broadband multimedia systems on the Chinese mainland, Hong Kong, Macao and Taiwan. It was supposed to operate for 15 years.