The director-general elect of the World Health Organization (WHO) has praised China's efforts to improve its public health systems.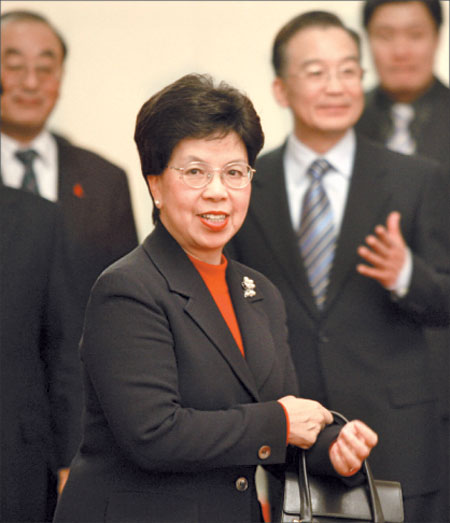 Margaret Chan, the newly-elected World Health Organization (WHO) chief, comes out of a meeting room after talks with Premier Wen Jiabao and Minister of Health Gao Qiang (left) at the Great Hall of the People in Beijing yesterday. Wen told the former Hong Kong health chief, on her first visit to the mainland after her WHO election, that China is keen to work with the WHO in disease prevention and control as well as information sharing. [newsphoto]


"China has made great progress in building a public disease surveillance and prevention system and has made a huge investment in the field of public health since the 2003 SARS (severe acute respiratory syndrome) outbreak," Margaret Chan told China Daily Tuesday.

"I've noticed that the Chinese Government has made unremitting efforts to improve medical services, especially for the rural population and disadvantaged urban groups," Chan said.

"They have chosen a very good work priority," she added.

Chan was speaking after a meeting with Premier Wen Jiabao. "I was reminded by Premier Wen that my duty as director-general of the WHO is to serve all members of the WHO," Chan said.

During the meeting, Wen pledged to further strengthen co-operation with the world health body.

Wen said China will work with the WHO in disease prevention and control, information sharing and construction of public health systems.

He stated that China had established sound co-operative relations with the WHO, and would continue to support and maintain close ties with the organization.

"The Chinese Government has attached great importance to public health, and has set promoting the overall level of Chinese people's health as a priority," Wen told Chan.

He noted that China has set up a nationwide disease prevention and control system and medical treatment system for public health emergencies in recent years. Now the country can release epidemic information in a prompt, open, and transparent way and can effectively curb the spread of infectious diseases.

The two sides also discussed efforts China has made to facilitate medical care system reform, establish a new rural co-operative medical service, and improve urban community medical care.

Wen congratulated Chan for her success in the election for WHO director-general, which made her the first Chinese national to head a United Nations agency.

Wen had earlier described Chan as the "best person" to head the agency.

Appointed by the World Health Assembly on November 9, 2006, Chan will take office on January 4.

According to her 2007-12 mandate, Chan will focus on Africa as well as women's health.

Chan was previously WHO assistant director-general for communicable diseases and representative of the director-general for Pandemic Influenza.

Prior to joining the WHO, she was director of health in Hong Kong. During her nine-year tenure Chan confronted the first human outbreak of H5N1 avian influenza in 1997, and successfully defeated SARS in Hong Kong in 2003.