SHANGHAI - China's sizzling economy shows few signs of slowing, the Organization for Economic Cooperation and Development, or OECD, said in a report released Tuesday that raised its growth for this year to 10.6 percent from 9.7 percent.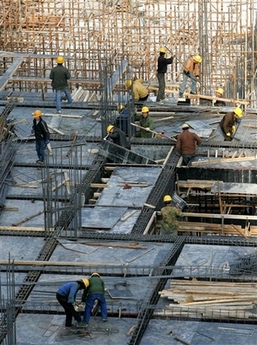 Workers labor on a construction site in Beijing Sunday Nov. 26, 2006. [AP]


Although China's economic growth is expected to moderate slightly to 10.3 percent in 2007, it will rebound to 10.7 percent in 2008, the Paris-based group of 30 industrialized countries said in its latest global economic outlook report. Its earlier forecast for growth in 2007, issued in May, was 9.5 percent.

China said its economy grew 10.4 percent in the July-September quarter from the same period of 2005, down from 11.3 percent growth rate in the second quarter, China's fastest expansion in a decade.

The report warned that China risks slowing growth too much if it imposes stronger controls on lending, controls Beijing has said are needed to relieve strains resulting from excessively fast growth and overinvestment in some sectors, such as real estate.

The report put China's inflation rate this year at 2.2 percent, down from its earlier forecast of 3.4 percent. Inflation is forecast to drop to 1.8 percent in 2007 and to edge up to 2 percent in 2008.

The report echoed calls from Washington for China to let its tightly currency, the yuan, gain value against the U.S. dollar more quickly.

Critics of China's foreign exchange policies contend that they keep the yuan undervalued against the dollar, giving Chinese exporters a price advantage overseas and contributing to Beijing's mounting trade surpluses. China's surplus with the U.S. climbed to US$202 billion in 2005 and is projected to rise further this year.