China's watchdog for aquatic product safety will launch a nationwide inspection targeting forbidden chemicals in the fish market, the vice-director of the fisheries bureau under the Ministry of Agriculture announced Monday.
"Special teams will be sent to check markets throughout the country from now till the end of the year," Chen Yide said at a press conference in Beijing.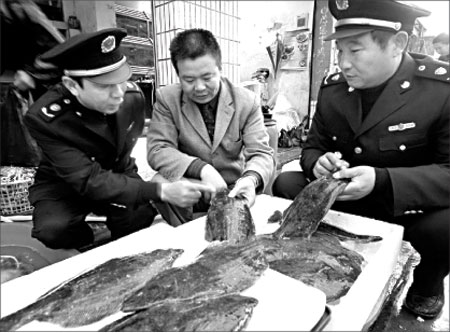 Idustrial and commercial authorities search for contaminated turbot at a market in Lianyungang, Jiangsu Province, several days after officials in Shanghai announced they had detected traces of chemicals like nitrofuran and chloromycetin in 30 samples of the popular fish. The chemicals are known cancer-causing agents. [newsphoto]

Chen also listed other efforts, including encouraging the use of better newly hatched fish and building an improved nationwide inspection network.

China has been confronted with food security problems recently. Mandarin fish from Guangdong Province and turbot from Shandong were found to have poisonous chemicals.

And ducks and hens in Hebei Province were fed a red dye so that their red-yolked eggs would sell for a higher price, but last week it was discovered that the dye was carcinogenic.

Chen attributed the frequent food scares to outdated inspection methods and facilities as well as poorly supervised veterinary practices. He added that the vast distribution network and huge number of food producers have added to the difficulties.

In Hong Kong, the sale of mandarin fish was banned on Sunday after the Food and Environmental Hygiene Department found samples contaminated with malachite green dye, which causes cancer.

The Hong Kong newspaper Wen Wei Po reported the department tested 15 one-kilogram samples and found high levels of malachite green in 11 of them.

Poisonous fish, eggs ring alarms over food safety

A Hong Kong supermarket spokesman said the mandarin fish they sell comes from a registered fish market in South China'S Guangdong Province. The market that supplies the fish has health and quarantine certificates.

In a random check of three hotels in Guangzhou, Guangdong's capital, the Guangzhou Hotel and the Guangzhou Victory Hotel reported yesterday that they were still selling dishes of mandarin fish in their restaurants.

The Guangzhou Baiyun Hotel, however, said it had stopped serving mandarin fish dishes because of the news.

Malachite green contamination was detected in a number of freshwater fish last year, including carp and mandarin fish. The Hong Kong government has released a list of fish markets that it is monitoring.

Many cities including Beijing have banned the sales of turbot in markets and restaurants after Shanghai announced that it had detected excessive amounts of carcinogenic nitrofuran and chloromycetin in 30 samples of the fish.