"Unscrupulous" mine owners and local officials were slammed by the nation's top work safety official Monday "for utter disregard to workers'lives" after a string of deadly accidents over the past three days.
An angry Li Yizhong, director of the State Administration of Work Safety (SAWS) told work safety officials nationwide in a teleconference that "such a high frequency of serious accidents is unprecedented."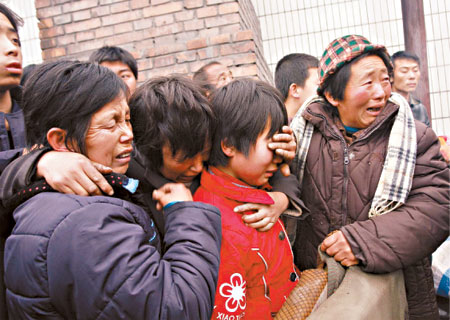 Relatives of victims gather at Luweitan Colliery in Linfen, Shanxi Province, yesterday after an explosion killed all 24 miners who were working underground. [newsphoto]

According to SAWS officials who did not want to be named, Li was so agitated that he shouted and pounded his desk before the conference.

Li stressed that coal mine owners and local officials should be held responsible for the surge of accidents which killed 85 over the past three days.

Seven people were killed in a colliery accident in Southwest China's Guizhou Province yesterday.

Eleven workers were sorting impurities from a coal heap when it collapsed at 9:47 am at Shuicheng Coal Mine Group.

Seven died and four were rescued, said the work safety administration in Liupanshui city, where the group is located.

An explosion on Sunday at Luweitan Colliery in Linfen city, North China's Shanxi Province, killed all 24 miners underground, the local government said yesterday.

Twenty-two miners were confirmed dead and five are missing in Saturday's gas blast at Yuanhua Coal Mine in Jixi, a city in Northeast China's Heilongjiang Province.

Three managers responsible for the blast have been arrested, said local police.

On the same day, 32 miners were killed and 28 injured in a gas explosion at Changyuan Coal Mine in Fuyuan, a county of Qujing in Yunnan Province.

Citing the Changyuan case, Li denounced the Qujing local government for letting the mine continue production even after it was put on the authorities?shutdown list.

The mine was ordered to be closed by SAWS and the Yunnan provincial government at the beginning of this year. However, the local government shut down another small mine and claimed Changyuan was closed.

"It is like a story in the 'Arabian Nights'," said Li. "It is like replacing a person on the death list with another."

"The case illustrates how some local governments are wilfully flouting national safety regulations," he said.

Li said an inspection team consisting of members of the Ministry of Supervision, the Supreme People's Procuratorate and the All China Federation of Trade Unions was dispatched to Qujing after it was discovered there were 23 such "replacements" there.

With the onset of winter, the soaring demand for coal to supply heating has led to a spate of serious coal mine disasters.

Five colliery accidents which occurred from October 24 to November 12 this year killed 111 people in Shanxi Province, one of the country's major coal production bases.

Li said three of the recent serious accidents occurred when workers who should have come up as soon as there was a power cut continued to stay underground; and the blasts occurred when supply was resumed.

"How many lives do we have to lose before they learn from the lesson?" he asked.

Li also pledged to get tough with coal mines that inflate their production capacity to avoid being closed in a nationwide campaign to shut down small mines. Many owners of small mines, in collusion with local officials, exaggerate output figures.
Li said that government officials and agencies that help cover up the true state of small coal mines would be severely punished.

It is reported that more than 5,400 small mines have been shut down; and Li urged local governments to speed up the process before the 2010 deadline.

"Don't let some unscrupulous coal mine owners kill more people in their last frenzy to make profit," he said.