The goal of the World Health Organization (WHO) is to build a "harmonious health world," in which everyone enjoys health, happiness and security, Dr Margaret Chan, the newly-elected WHO chief, has said.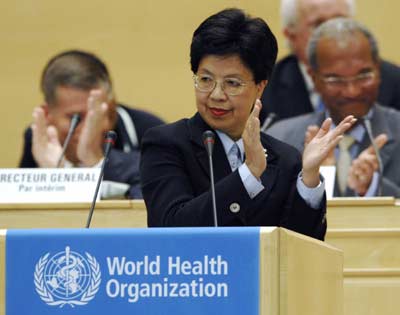 Newly elected World Health Organisation (WHO) Director-General Margaret Chan of China applauds during a special session of the World Health Assembly in Geneva November 9, 2006. Chan, the first Chinese national to head a major UN agency, was nominated on Wednesday by the WHO's executive board to succeed the late Lee Jong-wook as director-general.[Reuters]



The WHO Constitution says "harmony" is at the core of the world public health cause, so "the priority of our work is to build a harmonious health world," Chan told Xinhua in an exclusive interview on Saturday.

Chan, who is scheduled to take office on January 4, 2007, noted that harmony is a measure of civilization and that a harmonious life is closely related to health and security.

"Health and security are two key factors for a stable and harmonious life, and a harmonious society could only come after people's basic requirements for food and clothing have been met and health and security problems been solved," she said.

Chan, from Hong Kong, is the first Chinese national to lead a UN specialized agency. She said China and the WHO have forged very good cooperative relations.

"As a large country, China's public health conditions often draw much attention from other countries," Chan said.

China has been actively cooperating with the WHO, exchanging necessary information with it and always helping the organization facilitate its work, she said.

On Taiwan's participation in the WHO's technical activities, Chan said the WHO would deal with the issue in accordance with a Memorandum of Understanding (MoU) signed with China.

The MoU on Taiwan health and medical experts' participation in WHO technical activities was signed between the Chinese Ministry of Health and the WHO Secretariat in 2005.

"Facts show that the memorandum has played a positive role," Chan said.

Chan pledged to act within the authority given by the World Health Assembly and the WHO Secretariat and continue to help Taiwan experts' participation in WHO technical activities.

On the threat of an influenza pandemic, Chan said the world still needs to keep high vigilance, although the global avian influenza situation seemed to be less serious compared with last year.

Many countries have come to know more about the danger of avian influenza and increased preventive measures and resources against it.

"All these have led to the reduction of outbreaks, but real threat still exists and people should not treat it lightly," she stressed.

Chan called on experts to do more research on bird flu and said all WHO member countries to cooperate to find the most effective prevention method.

She also urged governments to report new cases quickly to the WHO and other related organizations and keep a high level of transparency.

"Global efforts are needed to prevent the spread of infectious diseases, as no one country can do this alone," Chan said.

The WHO will continue to provide technical assistance and guidance to member states in this regard.