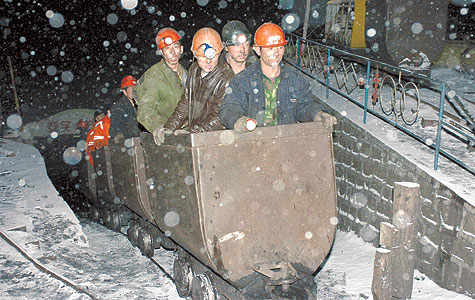 Rescuers emerge from a coal mine that exploded on Saturday in northeast China's Heilongjiang Province, killing at least 21 miners and leaving six missing. The same day, a coal gas blast in Yunnan Province in the southwest killed 32 miners and injured 28. [Shanghai Daily]
Weekend explosions in two Chinese coal mines killed at least 53 workers, injured 28 and left six missing, safety officials said yesterday.
The biggest death toll came on Saturday evening at the Changyuan Coal Mine in Fuyuan, three and a half hours by road from Kunming, capital of southwest China's Yunnan Province. Thirty-two miners were confirmed dead and 28 injured in an explosion shortly after 5pm, local sources said.
Rescue operations continued last night as investigators worked to determine the cause of the blast. The number of miners underground at the time was not immediately determined.
All the injured were hospitalized.
The mine, which holds six million tons of coal reserves, is a privately owned business.
Earlier Saturday, a gas explosion apparently caused by an equipment breakdown and operational error rocked the Yuanhua Coal Mine in Jixi in northeast China's Heilongjiang Province.
The remains of 21 miners were found by late yesterday, while six miners remained missing. Nine miners escaped unhurt, and four were later helped out by rescuers, according to rescue headquarters.
A production foreman said the mine had been divided into five work zones. One was under construction, and miners were digging coal in the other four.
A power outage around 10am led to a breakdown of the ventilation system and the gradual accumulation of a large amount of gas, authorities said.
When the electricity was restored at 1pm, Guan Youguo, who was in charge of ventilation in the shaft, told colleagues to release the stored gas, and the explosion occurred shortly thereafter, according to officials.
Guan's fate was unknown last night.
Beginning operations in 1996, the privately owned Yuanhua Coal Mine is well known for its high gas volume.
The mine produces 60,000 tons of coal a year and has 130 people on its payroll.
Rescue operations were continuing last night.
Jixi, about six hours by road from Harbin, the provincial capital, is an important coal-production base in the northeast.
Meanwhile, families of four miners missing from a coal mine gas blast in central China's Hunan Province on November 8 have received compensation.
Each family received 239,800 yuan (U$29,975), while families of the nine miners who were killed in the explosion received 223,000 yuan each.
The search for the four missing men was abandoned 12 days after the accident, as officials determined they were unlikely to have survived the high levels of toxic gas.
China's mines are the world's deadliest. Thousands of miners die each year in explosions, fires and floods, many caused by lack of attention to safety regulations and insufficient equipment.